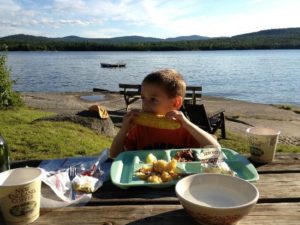 Quimby Country's famous Lobster Bake will return following a two-year absence.
Quimby Country isn't just for flatlanders. Our neighbors like to eat here as much as the people who stay with us do, especially when we schedule Lobster Bakes during the shoulder season when we're less crowded.
Executive Chef James Martinsson has scheduled two lobster feasts for the July 4th holiday weekend. The first will be on July 1, primarily for our people staying with us and a few invited guests. (If you're reading this, consider yourself invited. Call to reserve your lobster.)  The second lobster feast, which will be advertised to the general public, will be on July 3 when Big Averill is traditionally alight with fireworks displays.
The cost is $35 per person, including tax.  The bill of fare includes lobster, creamy clam chowder, cole slaw, red potato salad, tossed salad, and corn bread.  Landlubbers can eat marinated flank steak or chicken for $25. Kids can enjoy hot dogs, hamburgers, and homemade potato chips for $15.  Kids under 5 years old eat for free.
And for dessert everyone gets Quimby chocolate cake or berry shortcake. Plus  S'mores over the campfire.
Reservations are essential since we have to import the lobsters from Mill Cove in Maine.  Call 802-822-5533 by June 28 for either date.