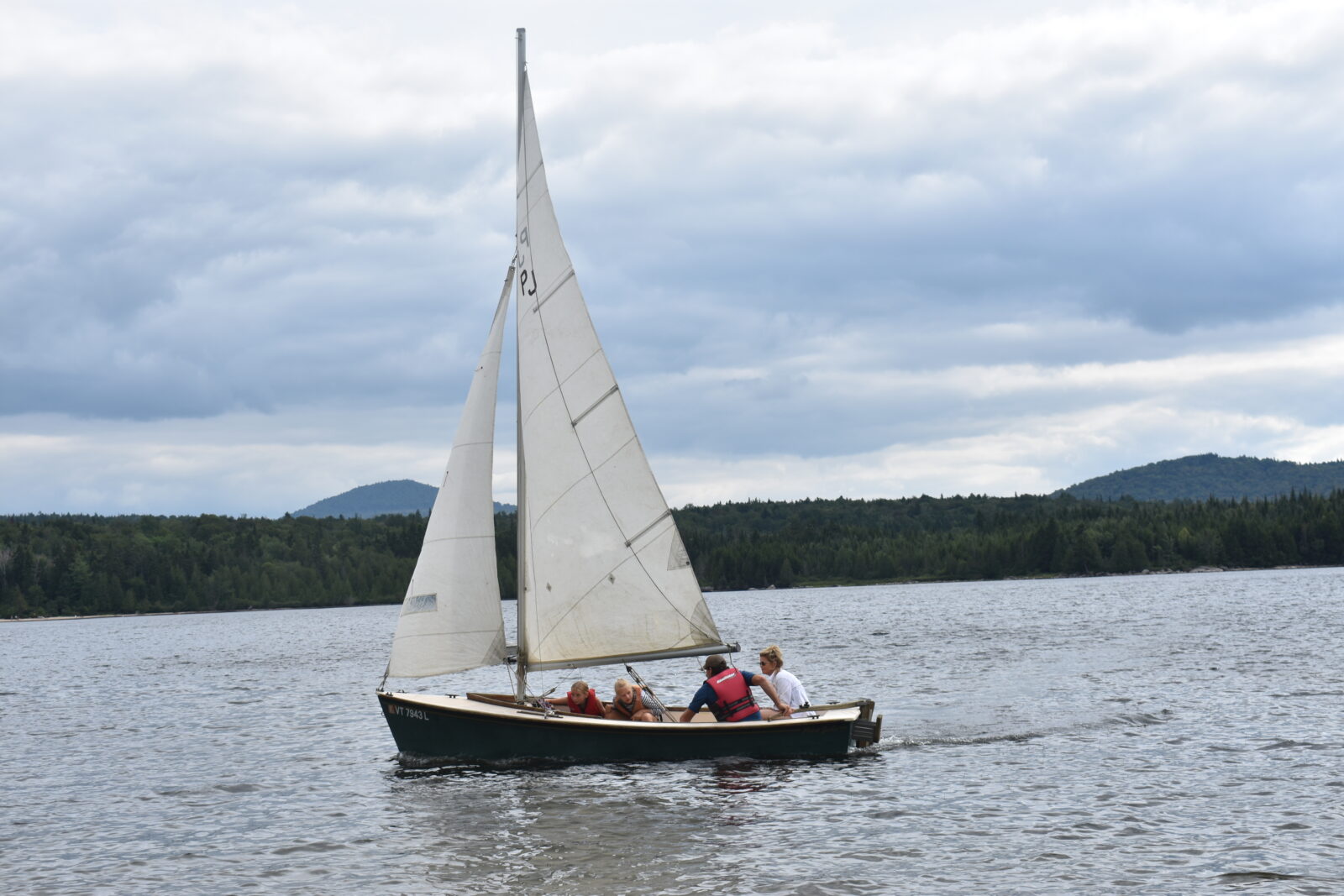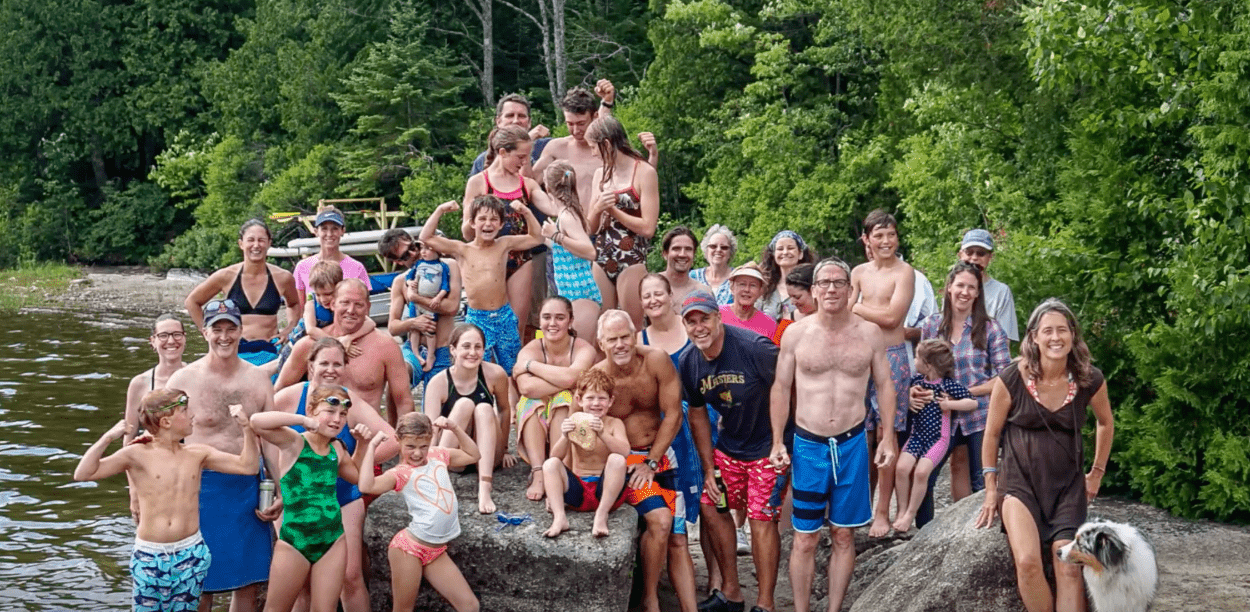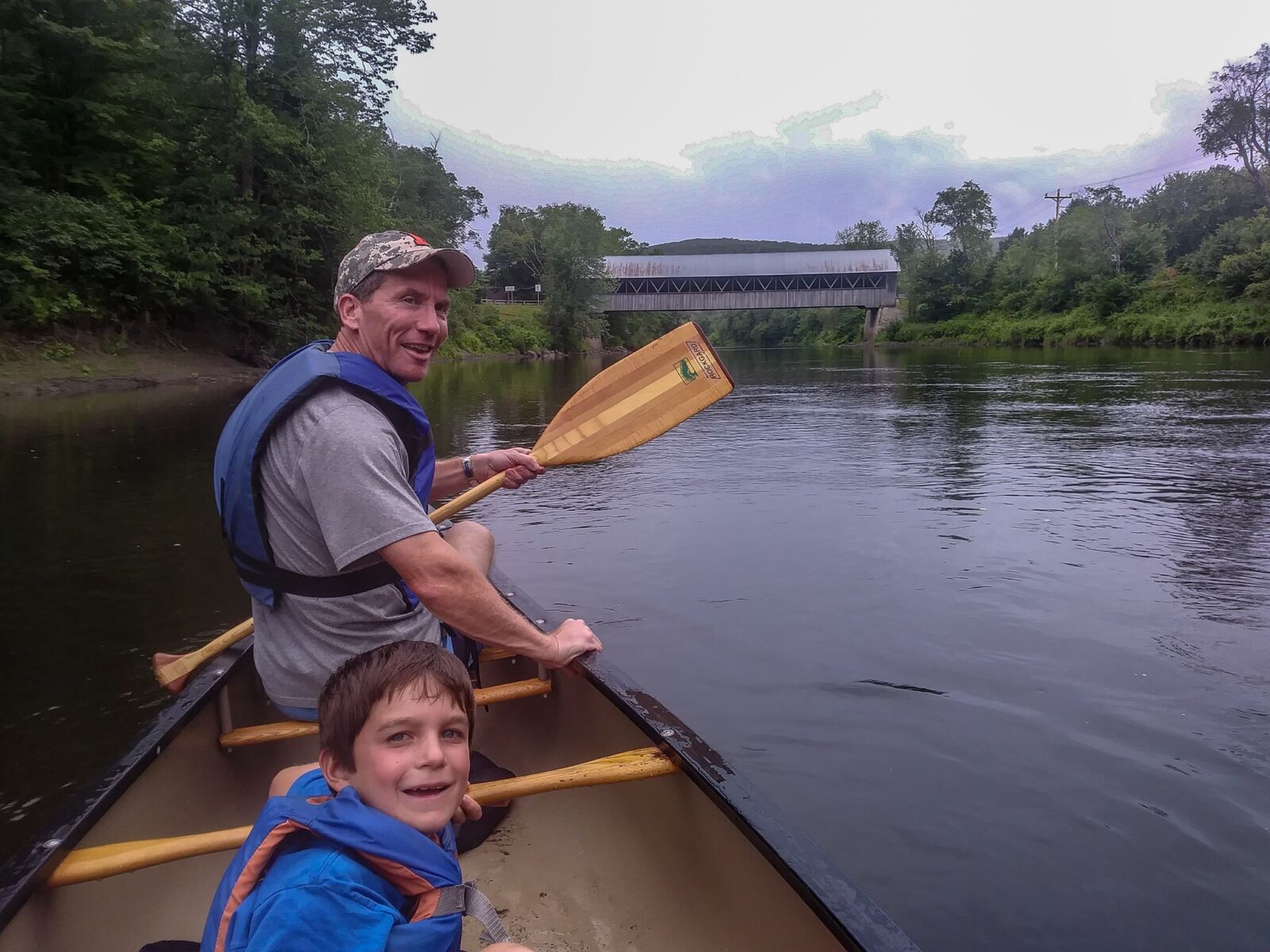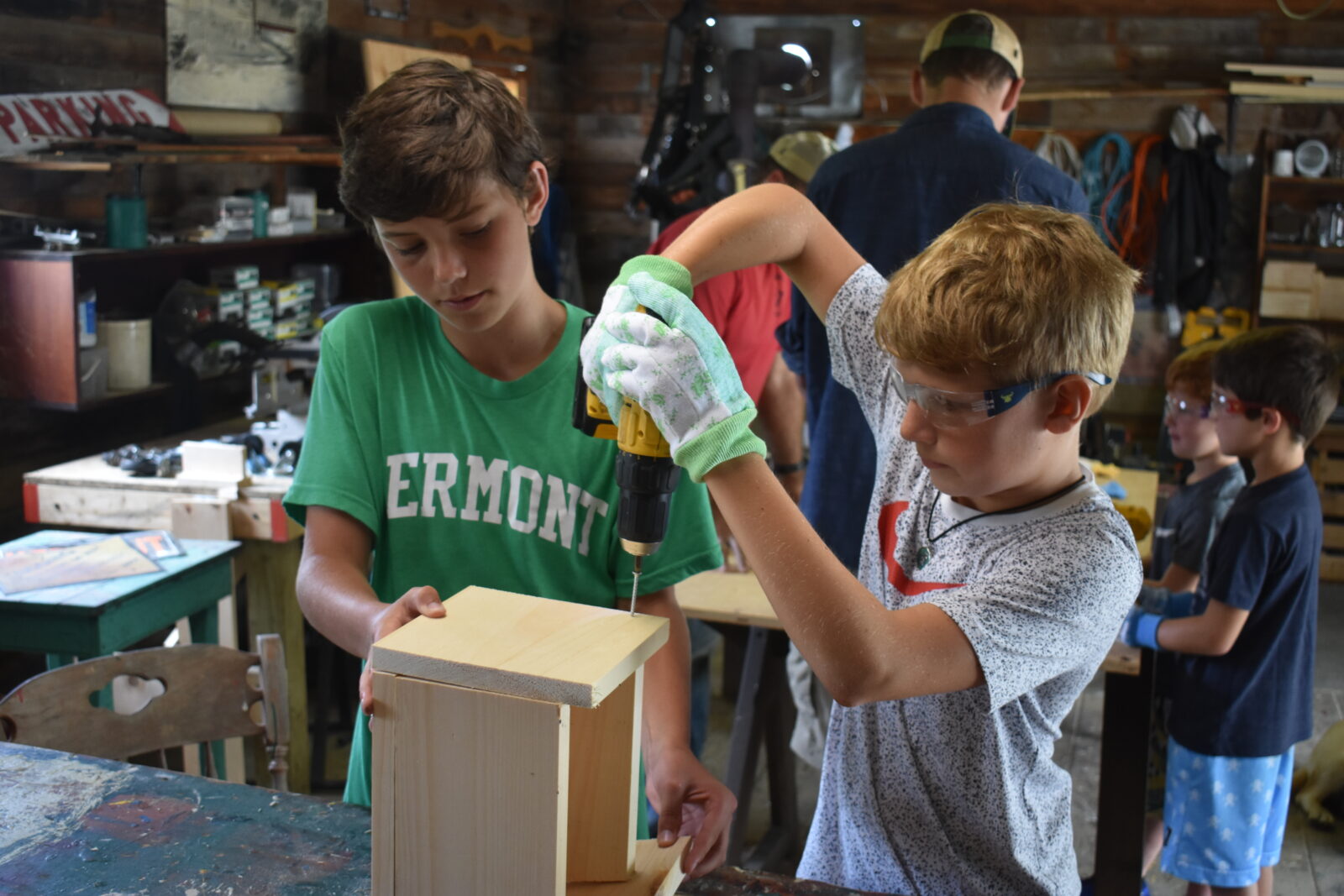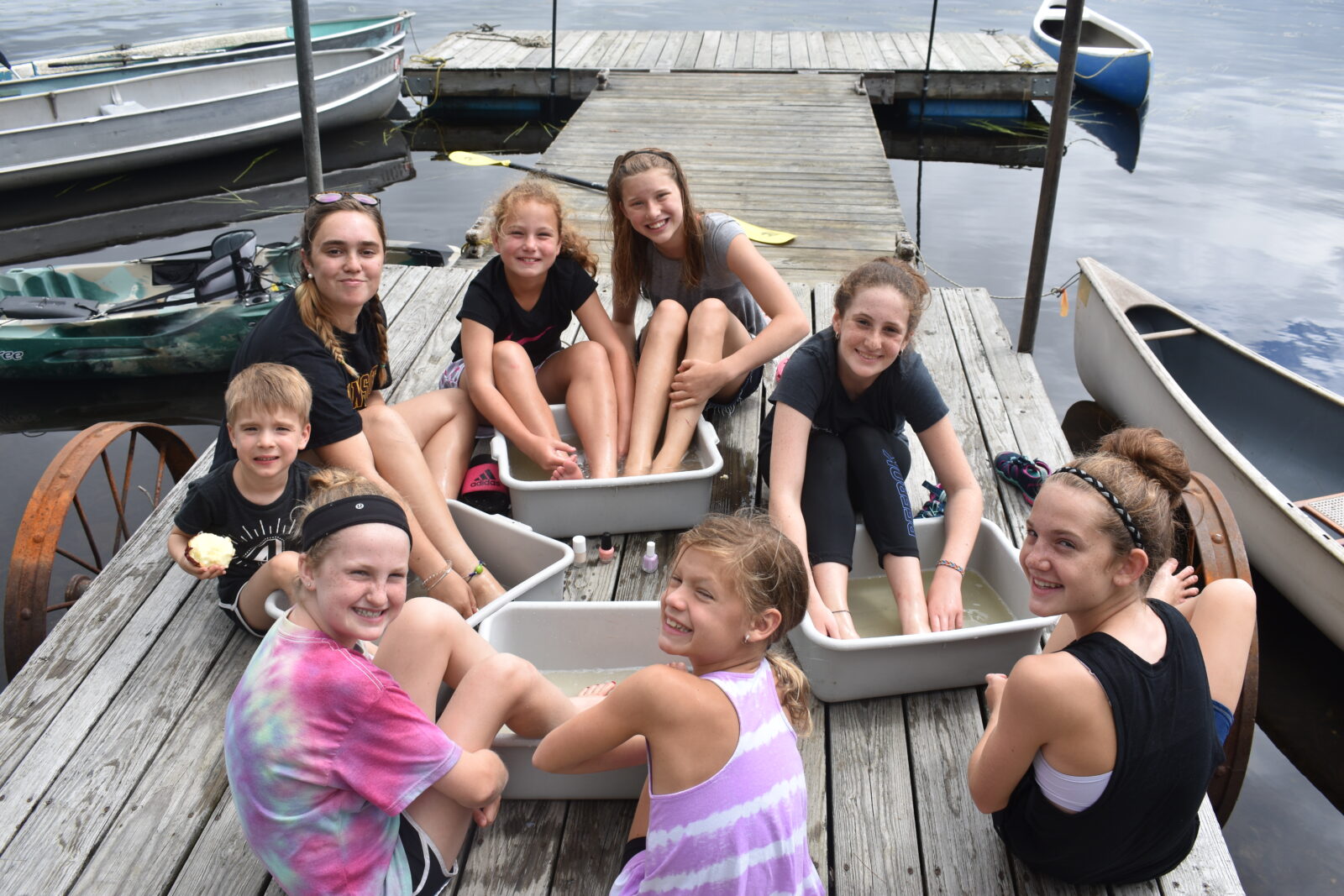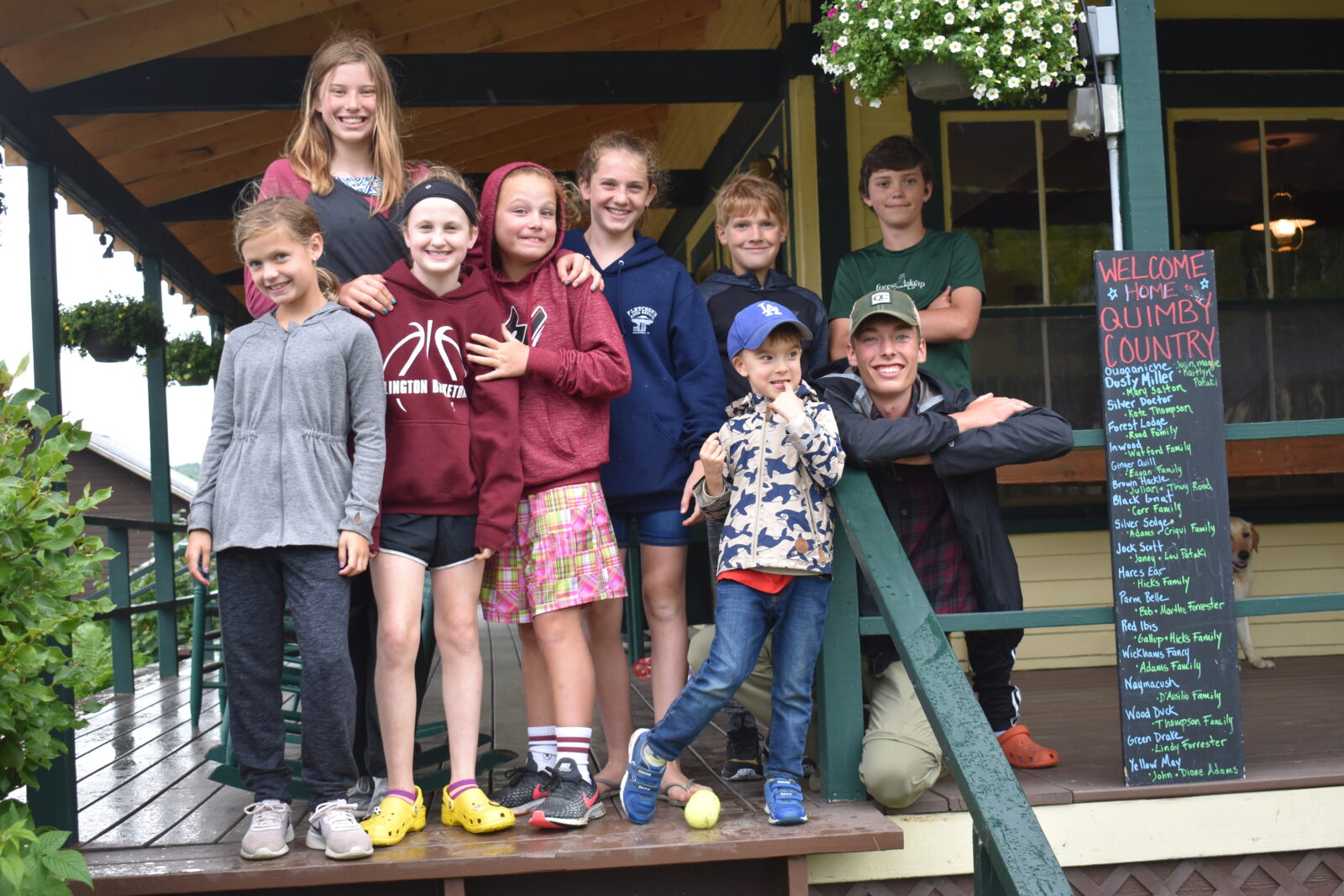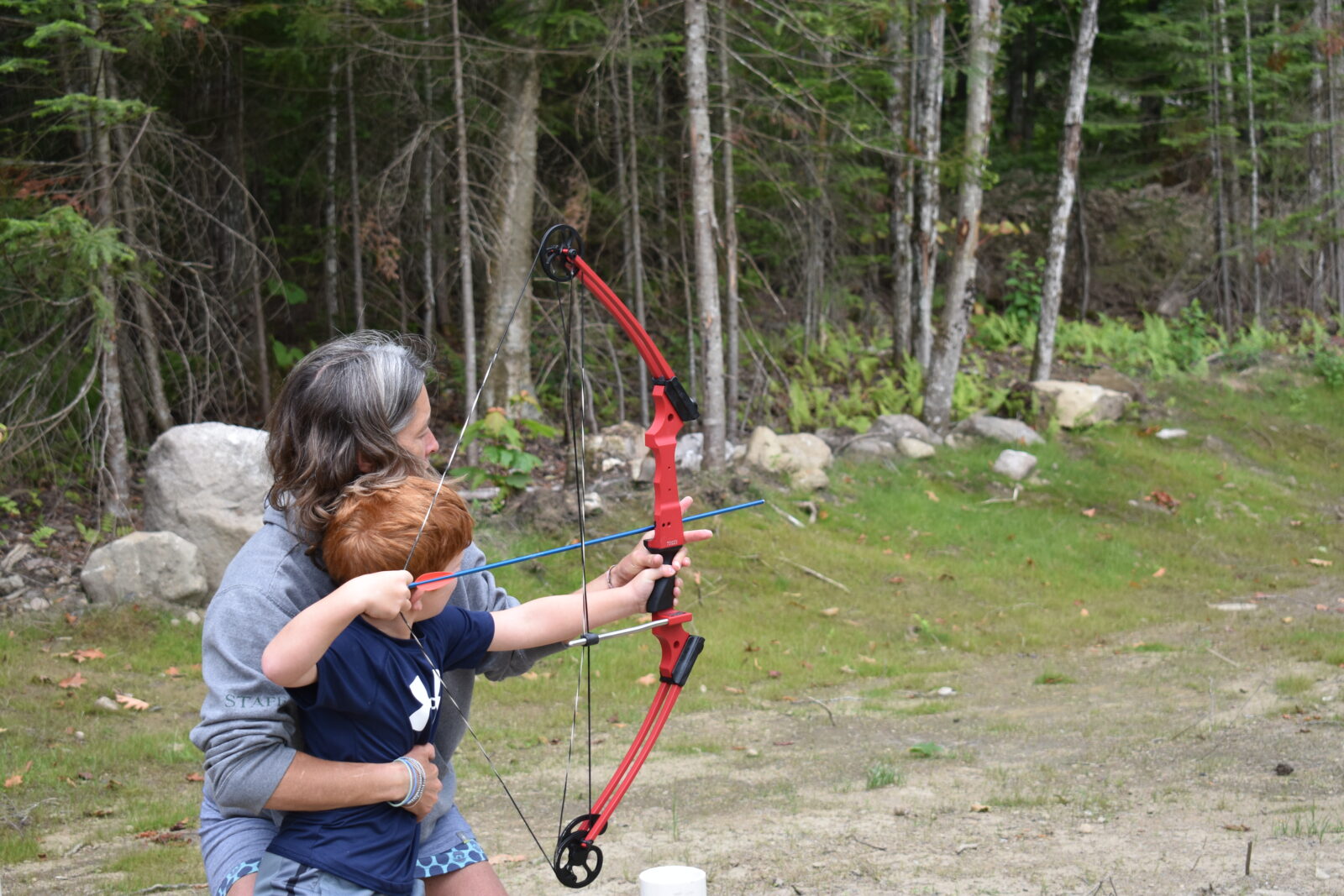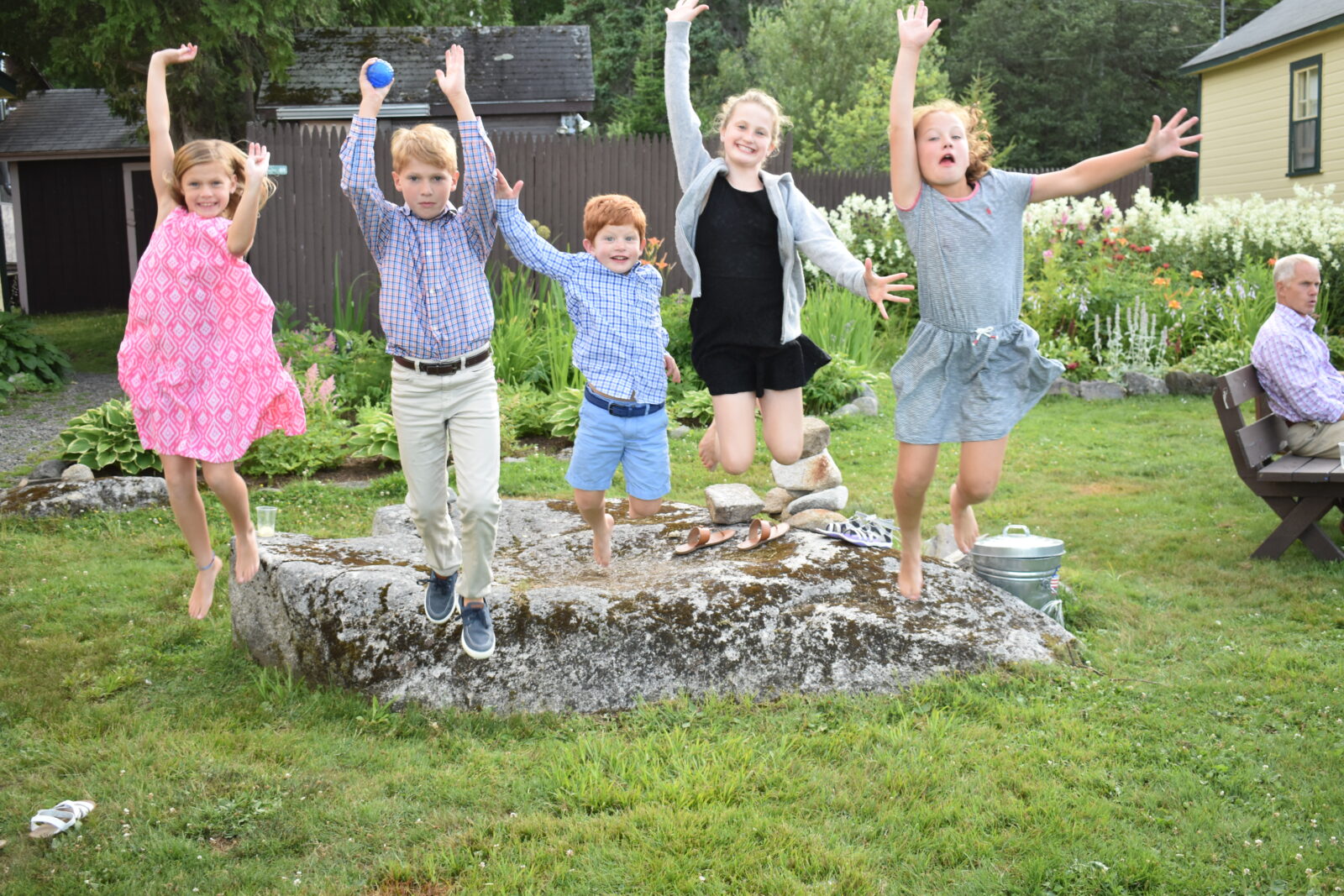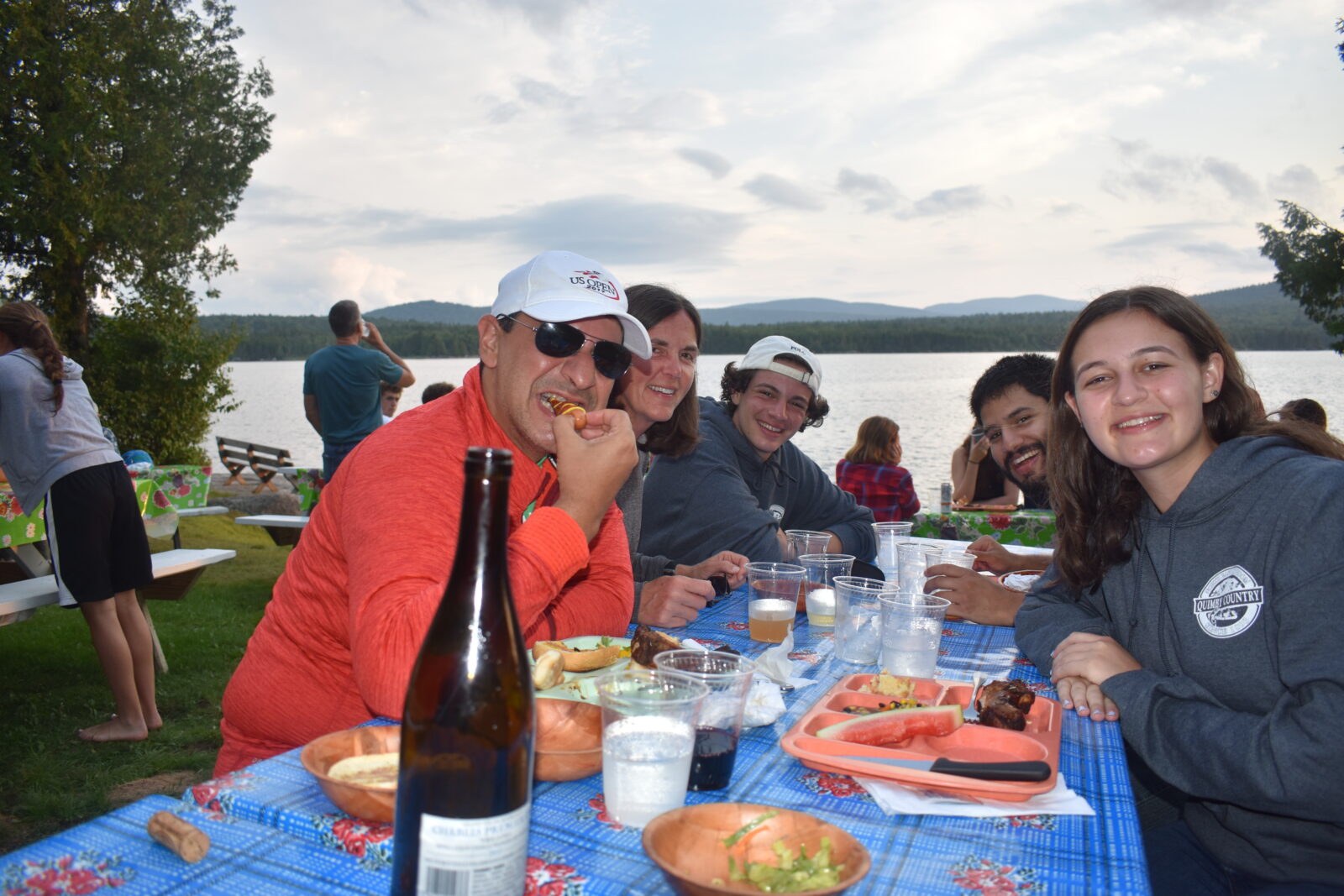 All-Inclusive One-Week Family Vacation
A place like Quimby Country allows the whole family to get away, unplug, and have a shared experience where everyone can learn new things together – distractions, whether unavoidable or intentional make it so hard for families these days to make those crucial connections. At Quimby Country, it is hard to find distractions as the experience is designed to bring families together and provide opportunities to explore, learn and connect.
At Quimby's, we believe the best way to continue to grow and learn, no matter how old you are, is to try new things. At Quimby's there are plenty of chances to have new opportunties, from learning how to fly fish to shooting an arrow to going mountain biking to canoeing down the Connecticut River.
During the day children participate in our counselor program, where they aren't always in the presence of their parents. They have the opportunity to try new things and explore newfound interests,  and maybe most importantly they get the opportunity to develop independence.
Quimby Country wants to be part of the solution, we want to help provide a place for families, where they can get away, unplug, connect and grow together. Join Us!
_________________________________________________________________________________________________
Our rates include your own private cottage overlooking Forest Lake, with full bath, living room, woodstove, and porch. Many of our cottages also include full kitchens; small refrigerators are available for all. Guests enjoy complimentary use of our canoes, kayaks, paddleboards, and rowboats (with trolling motors) on Forest Lake, Great Averill, and Little Averill Lakes. Use of our clay tennis court, recreation hall, and the main lodge with fireplace, and library are also included.
Our full Quimby's experience includes sit-down meals in our comfortable dining room, as well as a lakeside barbecue and a lobster bake, weather permitting. Picnic lunches are available for those on the go. Tea and coffee are served every afternoon. Guests enjoy access to all our facilities and recreational equipment, including boats. Plus, our trained camp counselors arrange complimentary daytime and evening programs for kids between four and fourteen, allowing parents to relax at the beach knowing their kids are in caring, competent hands. Click here to learn what a day at Quimby looks like.
In addition to our traditional counselor-led activities, we've lined up a number of new off-campus guided outings with selected local partners. From fly-fishing and canoeing to rock climbing and mountain biking, these optional activities will be led by local experts at a special price available to our Quimby Country guests. Learn More
Summer Season stays are for a minimum of 7 days from Saturday to Saturday. But we will sometimes book a shorter term stay if a cottage becomes available as much as 90 days out, so please check with us.  And we're happy to add families to our waiting list. Call 802-822-5533 or email info@QuimbyCountry.com for more information. Prices below do not reflect Vermont's 9% Rooms and Meals Tax.
Summer All Inclusive One-Week Family   Vacation

July 1st – August 19th   (7wk season)

    July 1st – Aug 19th
Adult per week

       $1,624
 Child (12-15)  Per week

      $1,484
 Young Child (3-11) per week

        $924
Children under 3 stay for free
——————————
Email or call us to learn more about our 'Get Acquainted' rates
To learn more, fill out our registration form and we'll be back in touch with you to help you plan your vacation!
Our all-inclusive family vacation package no-fuss rate includes all this and more!
Your own cottage with separate bedroom(s) for children, bath and daily housekeeping.
All meals – breakfast, lunch (or picnic baskets, if you prefer) and dinner.
Exceptional counselor service for the whole family
Infant and Toddler care available
Sports – tennis, extensive water sports: sailing, kayaking, canoeing, paddleboards and rowboats,  biking , plus guided mountain bike trips, volleyball, archery, day hikes, arts&crafts etc.
Quimbledon – family tennis tournament
Quimby Family Olympics
Informal evening entertainment – square dance, campfire, bingo, adult cocktail party, etc
Learn more about the Additional Guided Activities we offer at Quimby's
Our family loves to travel and adventure together, but there was something unique about the way Quimby's created a true vacation for our entire family. To watch our seven year old son create new friendships, and independently fishing down on the dock, biking through the woods with new friends, and emerging from the woods with a terrarium, so confident and excited, it just doesn't get better. Watching the pure fun and joy on all the children, and adults 4-94, dancing, during family Olympics, or just around the campfire. For us, it is these wholesome and authentic experiences is what life is all about!
We loved everything about Quimby Country: meeting new people, the beauty of the woods and lakes, the old fashioned fun, the freedom and independence for our five children, the freedom from the internet for all of us (!), the delicious food and all the new memories that we made.  Quimby's provided us with a week-long respite from the same old same old and allowed us to enjoy each other in a way that we don't always get to.  Thank you, Quimby Country! 
It is so hard to explain the magic of Quimby Country to people who have not been there – how to describe the conditions that lead to such deep experiences of adventure and contentment, newness and utter comfort?  A few memories jump out – the first morning, when we sat down at our sweet little table and I realized that someone else had cooked an incredible breakfast and all I had to do was choose . . .  building a fire in our cottage woodstove in August . . . watching our son solo paddle a standup paddleboard across Little Averill Lake … morning warmup dances before Quimbledon and family Olympics . . . sunrises . .  . sunsets . . . campfire singing . . . walks, swims, paddles, games and conversations with so many lovely people we had never met before . . . 

We've been home for more than a month now, and talk about our time at Quimby Country, within our family and to our friends and relations, almost every day.  At our weekly family meeting, our centerpiece is birch bark we picked up on a hike to the rock.  Harry and Annie have altered favorite songs to include the words Quimby Country in the lyrics.  It really is the best trip we've ever had together, and it's hard to imagine ever topping it.  Thank you, Quimby Country – and particularly Gene and Lily – for such a marvelous week, the memory of which lingers and continues to fill us with joy.
Five Reasons to vacation at Quimby's with your kids:
Unplug.We live in digital times, but kids and parents both need to turn away from their screens and engage in meaningful face-to-face interactions. Quimby's has no cell service, limited Wi-Fi, and no TVs.
Connect with your kids. Quimby's activities and environment gives you opportunities to interact with your kids on a level playing field, learning new things and having fun together.
Take risks. Parents and children can learn and grow by taking risks together. And Quimby Country offers ample opportunity to try new things. From fly-fishing to archery and from mountain biking to hiking. Vermont's Northeast Kingdom is an ideal setting for activities the whole family can enjoy.
Let go. The desire to maintain a sense of control is part of our DNA as parents. But a taste of independence can help teach our children responsibility. The counselor program at Quimby Country encourages kids to roam freely under watchful eyes, while building relationships of trust with adult mentors.
Time for yourself.Your kids' academic assignments, extracurricular activities, and your own career obligations leave you with little time for yourself. Quimby's balances counselor-led activities for kids and family with ample free time for adults, whether spent alone, with your spouse, or with other grownups.
Hear in their own words what our guests are saying about their Quimby Country experience.
RESERVATION, CANCELLATION AND PRICING POLICY
Due to our small size, short season, and location, cancellations can have a significant impact on us and we ask that you please read our reservation, cancellation and pricing policy. We strongly encourage you to purchase travel insurance to protect yourself in the event you need to cancel or modify your travel and vacation plans due to unforeseen circumstances. Thank you.
GENERAL POLICIES
Making and Confirming a Reservation
Guests may make reservations by phone, by email, online, or at the Quimby Lodge. No booking at Quimby's is confirmed until your initial deposit is received and you receive a confirmation via email from Quimby's.
Means of Payment
Quimby's accepts most major credit cards, but greatly appreciates payment by check.
Gratuities
The rate you pay allows us to compensate employees with the understanding that gratuities are not expected. However, guests may reward individual employees for exceptional service.
Specific Cottages
At the time of reservation, requests will be accepted for specific cottages. However, Quimby Country reserves the right to change cottage assignments at any time prior to arrival, without notice, in order to best accommodate all of our guests.
Dogs and Quimby Country
Well-behaved dogs are welcomed. Guest are asked to keep dogs on leashes around the cottages and lodge area and use doggy bags. When you book your reservation, please let us know if you are bringing your dog(s).
Minimum Stays
Reservations during our All Inclusive Weeks run from Saturday to Saturday and rates are set based upon full-week stays for at least two guests in the cottage. But we will sometimes book a shorter term stay if a cottage becomes available as much as 90 days out, so please check with us.  Stays of less than a full week will be charged at a daily rate. Single occupants of cottages during Peak Summer Season will also be charged at a daily rate. Call 802-822-5533 or email info@QuimbyCountry.com for more information
Deposit
A 40% deposit is required for reservations with the balance due on departure.
Cancellation Policy (All-Inclusive Family Camp)
If you cancel your reservation 3-months or more prior to your scheduled arrival, your payment will be refunded except for a $250 cancellation fee per cottage.
If you cancel your reservation within 2-months of your scheduled arrival, your payment will be forfeited unless Quimby's is able to rebook your cottage. In that event, your payment will be refunded less a $250 service charge per cottage.
However, in any case, if you choose to apply your payment to the following season, your entire payment will be credited to your account with no service charge. You may only carry over your payment for one year.
Late Arrivals/Early Departures
You are not entitled to a refund for a late arrival or an early departure of some or all of your party.