Weddings at Quimby Country
Quimby Country is the perfect natural setting for a memorable day.
Congratulations on your engagement — this is a special time for you and your family and Quimby Country would be pleased to assist you with creating a unique wedding experience. With more than 1000 acres of forests and two lakes, Quimby's offers endless possibilities, including the ability to reserve the entire property (rooms, meals, lakes) for your own private, intimate wedding. Say "I do" on Big Averill Lake with Brousseau Mountain in the background or inside rustic Nevin Bruegger Hall, then repair to the main lodge overlooking Forest Lake for your personally designed reception.
Celebrate your event in a unique and unspoiled environment — a place where time has stood still and people focus on each other, not their cell phones.
Click Here to learn more about our Wedding Weekend Package.
For a Wedding Ceremony
Outdoors:
The Rock, a natural granite ledge jutting out into Great Averill Lake
Sandy Beach, our natural sand beach
Indoors:
Quimby Country Lodge, main lobby with 100+ year old wood burning fireplace
Quimby Country Club House, featuring a two story wood burning fireplace and five sets of double French doors overlooking Forest Lake
For a Reception
Indoor event venues:
The Dining Room, for 50 – 100 people
The Club House, for 50 – 100 people
Outdoor event venues:
The Tennis Court, lakeside on Forest Lake, for 50 to 100 people
"We were so happy to get married at Quimby Country. The setting is like no other! Beautiful trees, lovely lake, charming and unique cottages, gatherings around the firepit… It was the perfect venue to gather friends and family to celebrate our mariage! Nothing compares to this special place!" – 2018 Quimby Country Bride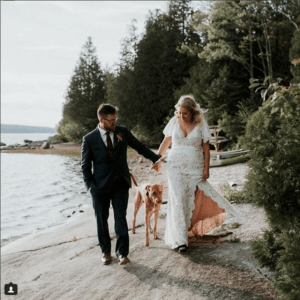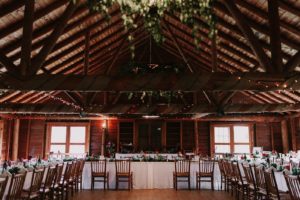 Perfect Country Wedding

I was invited to a wedding at Quimby's. I was excited when I pulled down the long driveway to see an old country farmhouse with a big wrap around porch and lots of rocking chairs. The cottage I was assigned was perfect and quaint for what I needed. We had plenty of room, and it was charming.
There were lots of things to do, we enjoyed hiking and kayaking. If your looking to get away for a camping trip without the hassle of packing all the gear, visit this place. 3 mins from Canada!
Will go back.
Inkel Wedding

We got married on Sept 26, 2015, and couldn't have asked for a more beautiful location. It was breathtaking! The hall is gorgeous as is the rock where we got married. My wedding was absolutely perfect!!! We stayed all weekend with our wedding party and it was fabulous. A great getaway for friends and family. We had so much fun. It's a wonderful place with an amazing chef. The food is AMAZING! You feel like family there. Can't wait to go again for my one year anniversary! I can't thank Quimby's enough for making my wedding beyond amazing!!!!
A Weekend Wedding

Quimby Country accommodations were top notch. Ray and his crew provided exceptional service. A beautiful and quiet venue for a wedding. Steve's culinary skills were excellent and staff was more than accommodating. It was a real thrill for us to bring our dog along also. Very laid back and pet-friendly. We also did some trail running for about an hour. It was beautiful. The cottages were cozy and comfortable. Quimby's was a great place for a wedding! Beautiful!
A Perfect Quimby Country Wedding

Quimby Country (QC) is the perfect venue for an intimate wedding! QC has always been a special place for us so when we got engaged we knew this is where we wanted to get married. The QC team is the best! Everyone worked hard to ensure no detail was overlooked. We wanted a small, intimate, family-oriented celebration and QC delivered. From the Lobster Bake on Big Averill Lake on Friday night followed by the bonfire with s'mores, to the beautiful wedding celebration and scrumptious dinner – it was a weekend to remember. We simply could not have imagined a better wedding experience.
The Most Amazing Moments Of Our Lives

We ended up having a full-weekend wedding bash with all of our family and friends. We filled the cabins with those who are closest to us (as many as we could fit!), and we, kids and dogs had run of the property for three full days….The post and beam barn was the perfect setting for our reception after a brief and beautiful ceremony on the lawn by the lake. The big takeaway from this experience is that we and Quimby's provided such a memorable time for ourselves and our guests that we are still living it in our minds today, 4 months later.