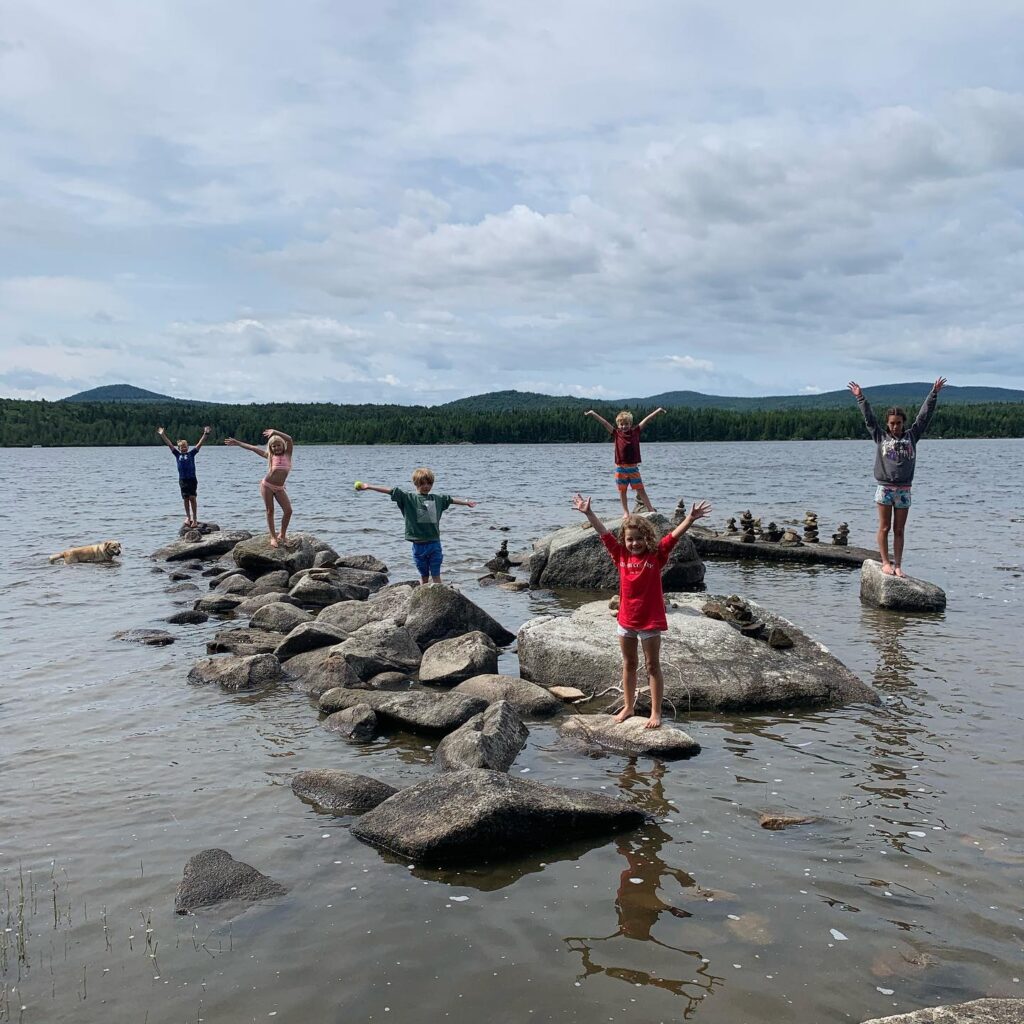 Recognizing the Youth of Quimby Country
One of the many special qualities of Quimby Country is the youth who have grown up there.  The friendships forged, the memories made, the laughter shared and the independence developed each summer are unique and treasured gifts that Quimby's shares and our young guests feel its magic and power, longing to return to what soon becomes their home away from home. We asked a few of these "young" guests to share some of the memorable memories and images that come to mind when they reflect on their time at Quimby Country. Their reflections are sure to make you smile and long for your days of youth again! 
Meet Noelle: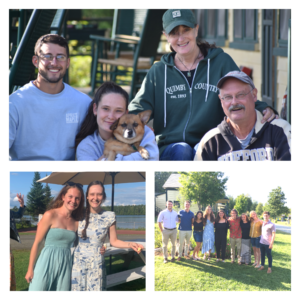 I am 25 years old and I've been coming to QC every summer since before I was born! My mom sprained her ankle while pregnant with me when she tripped down the path to the clubhouse!  The earliest memory I have is from being about three or four years old, and sitting out on the porch of my family's cabin. I got a hold of some bug spray, and accidentally got some in my eyes. Although I tried to explain this to my mom, I was yelling "bugfray" and it took a few minutes before she realized     what I'd done. The most "Quimby" part of this story was that there happened to be a doctor staying in a cabin right down Albert's Way, and I vividly remember looking up at the ceiling of his cabin as he helped my mom rinse the bug spray from my eyes. It sounds like a rough time, but it's a memory that makes me laugh and reminds me of the kindness and ability to improvise that one finds amongst Quimby people.  
How do I describe Quimby's? This is a tough one! I describe it as an old fishing camp-turned family holiday spot where there are both planned activities and copious amounts of glorious down time in the middle of incredibly beautiful woods. I describe it as a retreat, a time to try to rejuvenate amongst loved ones, between lakes and mountains, and whilst being served delicious comfort food.
With my family I love to return to our favorite hiking trails (Brousseau and Averill mountains), canoe around Forest Lake, spend time with all the dogs who roam about the campus, and enjoy long meals and board games filled with bubbling conversations. With friends I love to play tennis, try to capsize each other's paddle boards, look through the old albums and make fun of my younger self, and stay up under the stars around a campfire at night. The only time I ever really find myself alone is when I'm walking between two moments, maybe leaving the lodge after dinner to go meet a friend in a cabin for a board game. In these instances of solitude and quiet I love to simply look around and focus on all the wonderful things my senses get to take in around me. I try to hear the sounds of birds on the lake water or I'll stare for a long time up at the night sky full of stars, or try to smell the campfire and the woods and the warm tea in my hands. Sometimes I'm lucky enough to notice something another family is doing nearby, and I'll get to see others enjoy their own Quimby moments.
Quimby's has helped me to understand what I value in life and what I want my days to look like. Being there for a week or two every year reminds me that being with my family and friends is what brings me joy. My fiancé and I are modeling our future home and property after the community-centered lifestyle of Quimby Country, so that even when we must leave Vermont we can return to our home and still be surrounded by laughter and good food and family somewhere in the woods.
Three words that best describes Quimby Country? My family's home.
Meet Twin Brothers, Bowie and Saxon: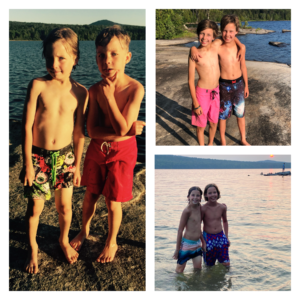 We've been coming to Quimby's for 13 summers– our first summer we were 9 months old and we're almost 13 now.  We haven't missed a single summer!
I think one of my first memories (Bowie) was when I was 4 or 5 and it was the first time I got to play in Quimbledon. Quimbledon has always been one of my favorite things to do during the week because everyone hangs out and watches and you get to have a picnic lunch.
My first memory (Saxon) is taking a kayak ride with my Dad and my dog.  I was 3 years old I think and it was the first time I had even been in a kayak so it was really cool for me.
Saxon: QC is a great community where everyone gets along and the fun never stops.
Bowie: At Quimby's I have so much freedom; you can do whatever you want everyday: biking, archery, lobster bakes, swim, kayak, SUP, beach volleyball……
What I (Bowie) love about Quimby's is going on family hikes up a mountain; I always like being around people at QC.
I (Saxon) love going to the Rock – its fun to be there with my family and dog- I'm never solo at QC.
I (Bowie) love waking up, stepping out onto the porch of our cottage and seeing the lake covered in mist and hearing the loons call, everyday, every year – it's like I'm in a movie and it's so different from my daily life.
I (Saxon) love the sunset at the Rock- it's the most beautiful view.
The three words that I (Bowie) use to best describe Quimby's are: Family; Wild; Home
My (Saxon) three words are: Legacy; Magical; Woods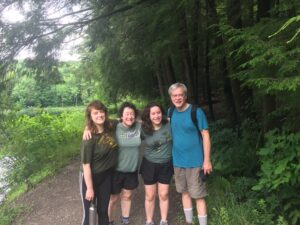 Meet Sara: 
I've been coming to QC my whole life; 29 years. I was just a baby when I started coming. I used to come and catch crayfish in Forest Lake in the mornings with my grandfather before meeting my parents for breakfast, which involved a certain amount of traipsing through the wildflowers to get to the pond edge. I'm not sure this is the very earliest of my memories, but so many things happened annually, and it gets a bit hard to discern when they occurred. It was a very special time for me to spend with my grandfather, to have this project to do together. The fish trap was kind of mechanical and exciting, it was the kind where they can swim in but not out. It was so kind of pastoral and idyllic and I felt very romantically about that kind of thing when I was a child.
If I had to describe Quimby's to someone who has never been, I would say that it is a wonderful and remote place in the middle of the woods and mountains, where you can slow down and feel peaceful.
Something I loved as a child with my family was my grandmother pushing/pulling me and my sister and all of our picnic things down the road to the Rock in a wheelbarrow. I love spending time at the rock with my family, and going on hikes, and making dinner especially with the grill. We also have  wonderful times stargazing, which is so special up in the NEK because the light pollution is so minimal. when I am alone I like to sit and watch things. I especially like the mornings when I can bring myself to wake up early before anyone else in my house is awake and walk down to the water and see the mist come up and have a coffee to myself. I remember sitting on a rock on the edge of Forest Lake one morning and looking over to my left and seeing a Great Blue Heron sitting on the rock next to me. We both frightened each other and she flew away. I don't get very much time that is genuinely to myself, and that is very special.
When I close my eyes and think of Quimby's I am brought back again to the peace of early mornings, which are very soft and gentle up at Quimby's. It is more space and ease than I have anywhere else. 
Three words I use to describe Quimbys are: calm, together, verdant
Meet Kaitlyn: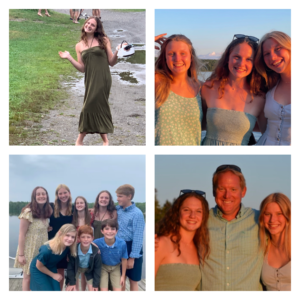 Happy, love, and home. Those are the three words I would use to describe Quimby's. My family has been going to Quimby Country for almost 70 yearsnow, but the very first thing I can remember is sitting on a picnic table at the lake with my parents. When I go to upstate Vermont to this cozy camp, this is my favorite time of year. It's terribly difficult to put into words the sheer love that this place brings. Yes, Quimby Country is a camp on a lake in the middle of nowhere. But it's so much more than that. Quimby's is somewhere families and friends from all over come to reunite. Where laughter fills the air and happiness is the only feeling you know. Quimby's is a unique place where you can escape the real world, and enjoy the little things life has to offer.
As I close my eyes and think of Quimby's, a smile spreads across my face. I think of the lake. Of the sunsets and the late night bonfires. Of the night swims and the endless pictures we're forced to take. I think of the people that warm my heart.
Quimby Country is a rustic family camp in upstate Vermont. It brings love and happiness to countless families each summer. Quimby's is where I call home.
Meet Ellie: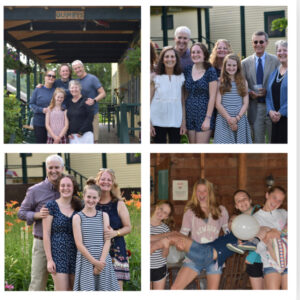 I have been coming to Quimby Country for my whole life. I wasn't even born before I first started coming 🙂 I'm 15 now. I would say one of my earliest memory is dipping my head in mud puddles with Laird. We would always wear clothes we didn't care about it and would go splashing in the puddles on Albert's Way, and then would dunk our heads in the puddles.
I've tried so many times to explain to people where I go at the end of July each summer, and I can never find a way that does Quimby's justice. I think Quimby's is indescribable, but if I were to describe it, I'd just say it's my happy place.
What do I enjoy doing while at Quimby's? With my family, I like to read on my grandparents' porch and watch my parents play Quimbledon. With my friends (who are like family) I like to swim, play games, and just enjoy being together. When I'm alone at QC, I try to just take it in and enjoy everything!
When I picture Quimbys, I think of the dining room at night, filled with everyone I love all dressed up, laughing and smiling all together.
Three words that I would use to describe Quimbys are magical, comforting, and home.