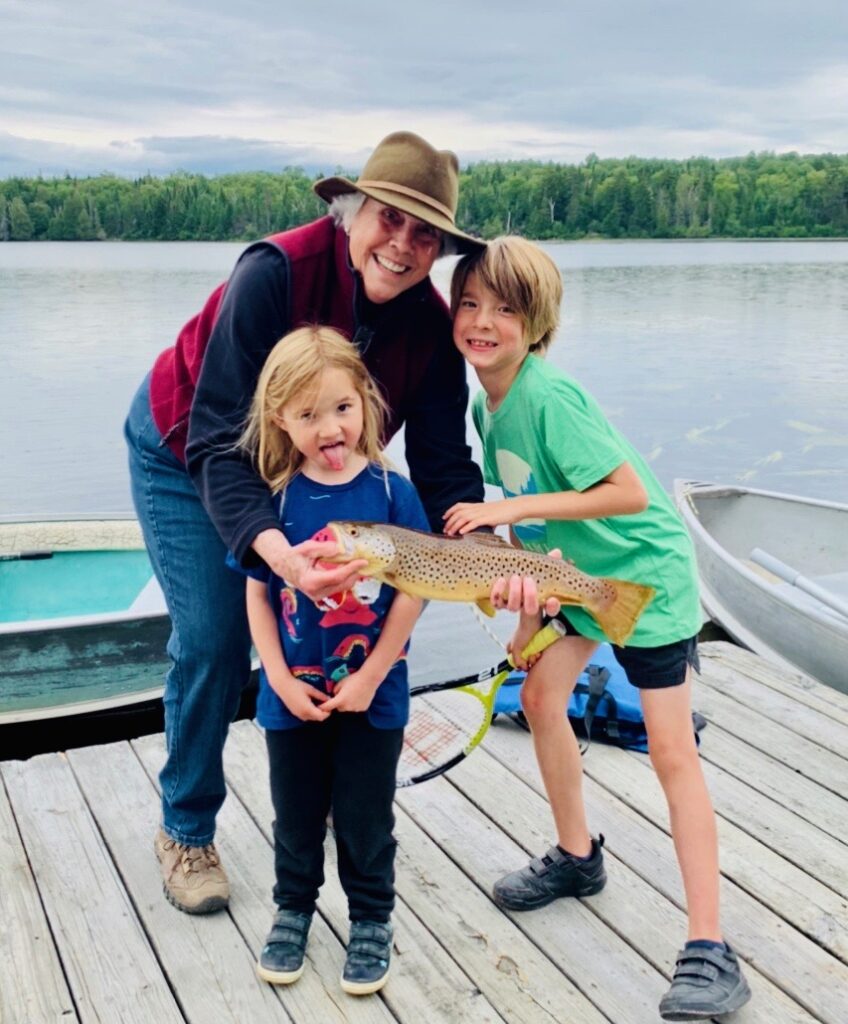 My passion for fly-fishing began at age 10 in a remote place called Kidney Pond Lodge and Camps in the shadow of Mt. Katahdin in northern Maine where my parents and I went for numerous summers. Married with 2 and then 3 young kids, my husband Phil and I chose beachside places for summer vacations until on a whim in 1987 he and I returned to Kidney Pond to learn that it was its last season, because the overseers of Baxter State Park decided not to renew the owner's lease.  Everything I loved so much about that place changed dramatically under the park's authority. Who knows how they've repurposed the sizable kitchen and large lodge also made of cedar logs that contained a huge, ten-point moose head on the wall above Ethel Barrymore's upright piano, a fabulous collection of books, the hand-cranked, wooden butter churner with its lid-in-tact and a large, original wooden bowling ball with 3 finger holes, both of which I found in the woods as a teenager and were on display in the sitting room, much less the five, 12-foot long, rectangular tables in the dining room where 4 of the tabletops came from Samuel Colt's private bowling alley, which was part of K.P's history from the late1800's.  Needless to say, Phil and I were over the moon to discover Quimby's in 1990, its similar history, layout and wonderful traditions.  To feel so at ease and watch the corporate stress fall away from Phi's body told me everything I needed to know.
Thank Heaven for Quimby's!  After 18 months of isolation and our cancellations of 2 weeks at Quimby's in 2020, Phil and I didn't realize how despondent and disconnected with life we had become until we returned to Quimby's this past summer.  Our son, Charlie, who's 47, his younger son, Phil (21), and his lovely girlfriend, Onna Downey, joined us for the last week in July and love QC for its inclusive atmosphere, wonderful staff and numerous actives.  It was such a welcome return to "normal" with no virus restrictions so we could exchange hugs with them and our many friends we hadn't seen since 2019 and to congregate freely with everyone. 
Three days into our return, Charlie and I spent 4 hours on the annually stocked headwaters of the Conn. River with a private guide we like very much, who owns a handsome fiberglass drift boat with lots of storage space and a single, swivel, high seat with a padded back fore and aft and ample room to stand against a curved, guard rail to make long casts.  For us, this was heaven on earth, and we elected to release the 10 brown trout we caught.  Back at Quimby's, we were delighted to learn that Phil had also spent a splendid day, reading while our grandson, Phil, (we affectionately call P2 to differentiate between the two Phils)  and Onna Downey joined other kids of all ages and several parents at the archery range with 2 counselors.  Before noon P2 and Onna collected their and Granddad's ordered picnic lunches from the lodge and brought them to our cottage where they ate on the porch with a table between them.  After lunch Phil expected the kids to take off.  Instead, P2 and Onna initiated so many topics, some of which they wanted Phil's advice about that they gabbed and laughed for 3 hours!  When Charlie and I returned, the kids had just left on their bikes for a swim in Big Averill Lake so, Charlie stashed his rod, vest and cooler on the porch next door where he and the kids were staying and rode his bike in a bathing suit to join them. 
I mention that lead-up to demonstrate the enjoyable slower pace of things at Quimby's.  Inside our sitting room, Phil was eager to share with me the various subjects the kids and he had talked about, the advice they sought and how much that uninterrupted quality time together meant to him.  I hadn't seen Phil that pleased and animated in a very long spell and said how very complimentary it was that P2 and Onna took that opportunity to chat about important things in their lives so he (and I, in turn,) would be up-to date.  I could tell that that afternoon was "Ah-ha-moment" for Phil too when the scales fell off his eyes and his perspective broadened during his reconnection with P2 and Onna.  It's also part of being "Quimbyized"!  Charlie and the kids hated to leave at the end of the week, professing that their week was the best-ever. 
The next day I tried my luck in Forest Lake, which gives up its stocked brown trout sparingly by mid-July and August, because the lake is only 30′ deep in the center and its surface warms up by then, which drops the cooler water that trout prefer in the thermal cline to 8-10′ deep.  However, many years ago I also discovered that parts of this lake's north and west shoreline were wadable where an inch of mud covers the hard-packed, sandy bottom.  Although my preference on Forest Lake is to fly-cast, standing in chest waders, at 78 it's no longer safe for me to do this without Charlie's company so, I took one of the metal boats, a life jacket and rowed to some of my favorite places.  My first strike was a 10″ Brook trout with its distinctive yellow, red and blue spots.  What a surprise!  Forest Lake hasn't been stocked with "brookies" for many years, which meant this beauty had migrated from Big Averill's marshy outlet that winds through the woods to Forest Lake's marshy inlet.  I knew the second trout was a big one by the way it fought, bent my rod, remained deep and peeled line from the reel.  Luckily I had my larger net with its deep bag, because this 4-year holdover,19″ Brown trout with its hefty girth took 10-15 minutes to bring it to the boat where the trout exploded in the net, which I quickly raised and settled by my feet in the boat and then let out a tremendous war-whoop of exhilaration.  Returning to the dock, I cleaned both fish, took them to the kitchen where they were placed under plastic-wrap on an oval platter in the walk-in-refrigerator.  The guests' cocktail party around the fire pit area that Sunday evening was cancelled due to rain so, after dinner I spoke with the chef, who said he'd be delighted to cook the big trout the next day, which was served on butterfly crackers at Monday's rescheduled cocktail party for everyone to enjoy.  The next morning I ordered the Brook trout and a blueberry pancake for breakfast.  Because I only consumed half of the trout, I shared the rest with guests at another table, demonstrating how perfectly the chef had pan-fried the fish as I used my fork to easily lift its backbone and connected ribs in a whole piece away from the remaining fillet, and explained that the salmon-colored meat indicated a native trout, opposed to the stocked, pellet-fed ones at hatcheries, which turns the meat white.
All of this is to say that the energy, care and spirit with which Lilly and Gene Devlin and their staff bring to Quimby's is both amazing and praiseworthy for the well deserved compliments they continue to receive.