Families Connect at Quimby Country
Vermont's Original Family Summer Camp
Families have been coming to Quimby Country for their annual vacation for years. And why not? There's something for everyone.
On the property, there is a playground for little ones; tennis on our clay court for older kids and adults; fishing in Forest Lake or just rowing around to see what the loons are up to; boating, kayaking, and windsurfing on Big Averill Lake; swimming and picnicking at Sandy Beach; biking on logging trails off Forest Lake Road; and hiking on the Ridge Trail or around Forest Lake. On rainy days, there are craft projects, ping pong, and shuffleboard in the Club House, board games and charades in the Lodge, and even cooking and woodworking lessons in the kitchen and workshop, supervised by our Chef and Facility Manager.
Parents can relax on the porch, sipping coffee, while kids take advantage of one of the many complimentary activities arranged by Quimby's counselors. Or the whole family can take off for the day to explore the many adventures available in the Northeast Kingdom and Eastern Townships of Canada, including raspberry picking, hiking up Pinnacle Mountain, or hitting the "big city," of Colebrook, NH, for a pizza.
We can provide detailed maps, trail guides, and suggestions if you decide to set off on a hike by yourself.  Or we can arrange guided hikes tailored to your family or group interests and capabilities.  Ask for more details.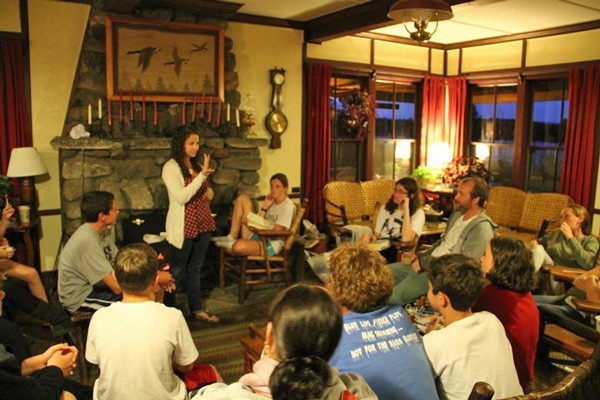 Cookouts, Activities, and Fun
What's day without screens? It's a rousing game of Capture the Flag or Fox and Hounds. Swimming at Sandy Beach, hiking on the Ridge Trail, or climbing Mt. Averill. It's learning about cooking with our chef or doing a woodworking project with our resident carpenter. It's rowing around Forest Lake to see what the loons are up to; learning to master a paddle board on Big Averill. Or playing tennis with friends.
On Tuesday and Friday evenings, it's a cookout down at the Rock at Big Averill, a perfect spot to watch the evening sunset with a glass of wine. On Fridays, the night concludes with a favorite Quimby tradition – younger folk taking a swing at the piñata made earlier in the week by those same guests. The final whack sets off a swirl of candy and a feeding frenzy of young arms and legs. Then it's time to head back to the light and warmth of the cottages. With a possible stop by the Lodge for a spirited game of charades (moms and daughters against dads and sons) or to the Rec Hall for a fast match of shuffleboard or ping pong.
Guests have such a great time that they return again and again, often the same week and frequently reuniting with friends made in previous summers. Come join us today and find out what makes Quimby's so special.
Learn to Fly (Fish, that is)
This is your chance to learn the skill of fly fishing – from tying lures and casting and casting them to getting a fish to bite and reeling it in.
Quimby Country started life as a fishing camp more than 120 years ago. It's still blessed with some of the best fishing in the northeast.
We can point you to the best nearby fishing spots. And arrange for full or half-day guided fishing trips to nearby lakes and rivers.
Our chef will be happy to turn your catch into dinner for your family and friends. If it's a catch you're particularly proud of, we can even recommend a local taxidermist.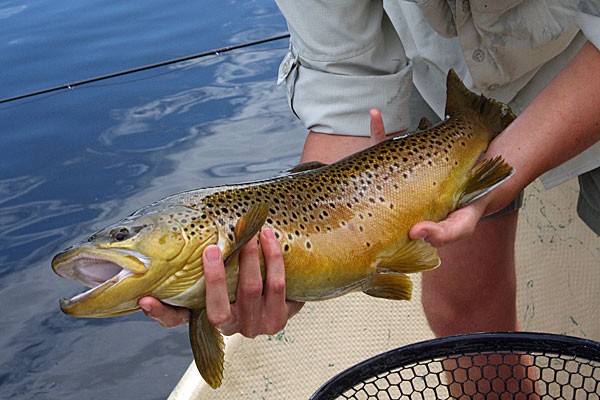 A Little Piece of Heaven

We just returned from our first trip to Quimby Country with our 4 yr old, 2 yr old, and two dogs. What else can we say except it was paradise. The meals were great, the accommodations were clean and comfortable, and our kids and dogs had the times of their lives (as did we!). In a lot of ways, going to Quimby is like going back in time – kids have fun building pinatas and terrariums and adults relax with wine and friendly conversation. When our kids went to bed, my husband and I played board games while drinking beers and watching the sun set over Forest Lake. Keelie, the wonderful counselor, was so great with all the kids (especially our little motor mouth) and she kept them busy with fun and imaginative activities. The other guests were really friendly and went out of their way to make us feel like we had been going to Quimby for years.
Family Resort with Meals and Activities on 2 Lakes

Loads of charm. Individual cabins with porches overlooking Forest Lake with canoes and kayaks. Community tennis court with weekly family-style fun doubles tournament (usually one non-adult or novice per pair- no hard feelings allowed. Sunday cocktail party get together to meet new guests (informal attire). Weekly lobster cookout on Averill Lake (1/3 mile by footpath or Quimby transportation); this 1x 3-mile deep glacial lake has Quimby facility for swimming to offshore float, canoeing, kayaking, windsurfing, standup paddleboard. Further 1/2 mile trail (or boat) to an isolated sand beach for picnicking sunning or fishing.
Mild do moderately strenuous local hiking to mountains with tremendous lake views overlooking massive glacial cliffs. 4 miles from Canadian border crossing- local hill climbing, fishing, curio shopping across the border. Counselors lead ages 5-15, child care available for younger ones. Decent local fishing, guest-directed moderate mountain hikes (most with great views). Group activities most evenings (optional, obviously).
Forty Years of Family Fun

We first came here with my mother, two nephews, three sons and me. This was our forty-first year. Quimby's accommodated my family ever since. I waited for the boys to complain about the lack of nightlife, I watched them use the camp to measure their future wives, and I watched my grandchildren fall for the magic. In this year's thank you note, my sixteen-year-old granddaughter explained how important Quimby Country was to her. It is a place where parents don't need to say no for a week.
Superb Family Vacation

The best place to disconnect and recharge. We have been going for a few years and we look forward to it for months in advance. It's a welcoming place for all ages and the activities. It's unique and has stood the test of time.
Awesome

So many events and nice people, well worth the trip! There are lots of fun activities and games that are well put together. We went to Quimby to fish and their were plenty to catch. Great views and nice walks. The attendants are so nice and helped us so much without any resistance. Swimming water is clean and clear. Quimby really has all of the great small things that people look for in a great vacation and has all of big stuff as well.