Quimby's offers three-season accommodations in our 19 well-kept cabins. Nine of the cabins have kitchens and all 19 have wood stoves, full baths, porches overlooking Forest Lake, comfortable beds, and daily housekeeping service during our high season. In addition, the main lodge has a fireplace, a library, and supply of board games. A separate recreation hall provides space for crafts and games on rainy days and square dances on some evenings.
During our all-inclusive summer vacation weeks, guests enjoy daily housekeeping, sit-down meals in our comfortable dining room, as well as a lakeside barbecue and a lobster bake. Picnic lunches are available for those on the go. Complimentary camp counselors arrange day and evening activities for youngsters and their families.
In fall and spring, guests can enjoy complimentary continental breakfasts in our dining room. Guests can take advantage of casual or fine dining within a half hour of Quimby Country, including Quebec's Eastern Townships.
Occasionally, on a rainy day, we'll run a movie in the Club House for the younger kids. But otherwise, we're proud of our long tradition of being a technology-free corner of the world.  Here you'll rediscover the fun of an evening playing games with your family, followed by reading a good book, engaging in quiet conversation, or just gazing at all the stars twinkling in the clear mountain air.  And when bedtime comes, you may remember the familiar, lulling sound of crickets on a warm night and the hoot of owls or loons calling out in the dark.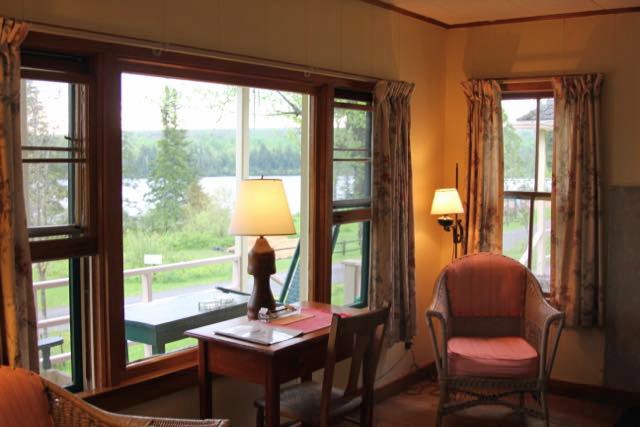 For families that enjoy the outdoors, Quimby Country is ideal. It sits on one of the prettiest lakes in Vermont and is a brief 10-minute walk from the most unspoiled swimming and boating anywhere. Counselors keep the kids busy all day and all meals are taken in the century-old lodge, where wifi is available for people who have trouble cutting the string to civilization. The inn's one phone line is also there (free long distance). Quimby's is a great place to experience the outdoors and each other's company.
Quimby's is a beautiful, family-oriented vacation spot in Vermont's Northeast Kingdom. I spent many summers there during my childhood, and now I bring my kids up there all the way from Florida. We love it!
We have stayed here several times and love the peace, cleanliness, fabulous location with all sorts of outdoor activity available or simply sitting around and reading. Easy access to the Eastern Townships of Quebec which are well worth exploring on the rainy days. Very friendly as well. We will return.
Cool nights, warm days, clean air. Perfect for deep relaxing and regaining a sense of wonder at the beauty of nature. We have been coming for many decades. Quimby's had been an anchor in my life. Try it.