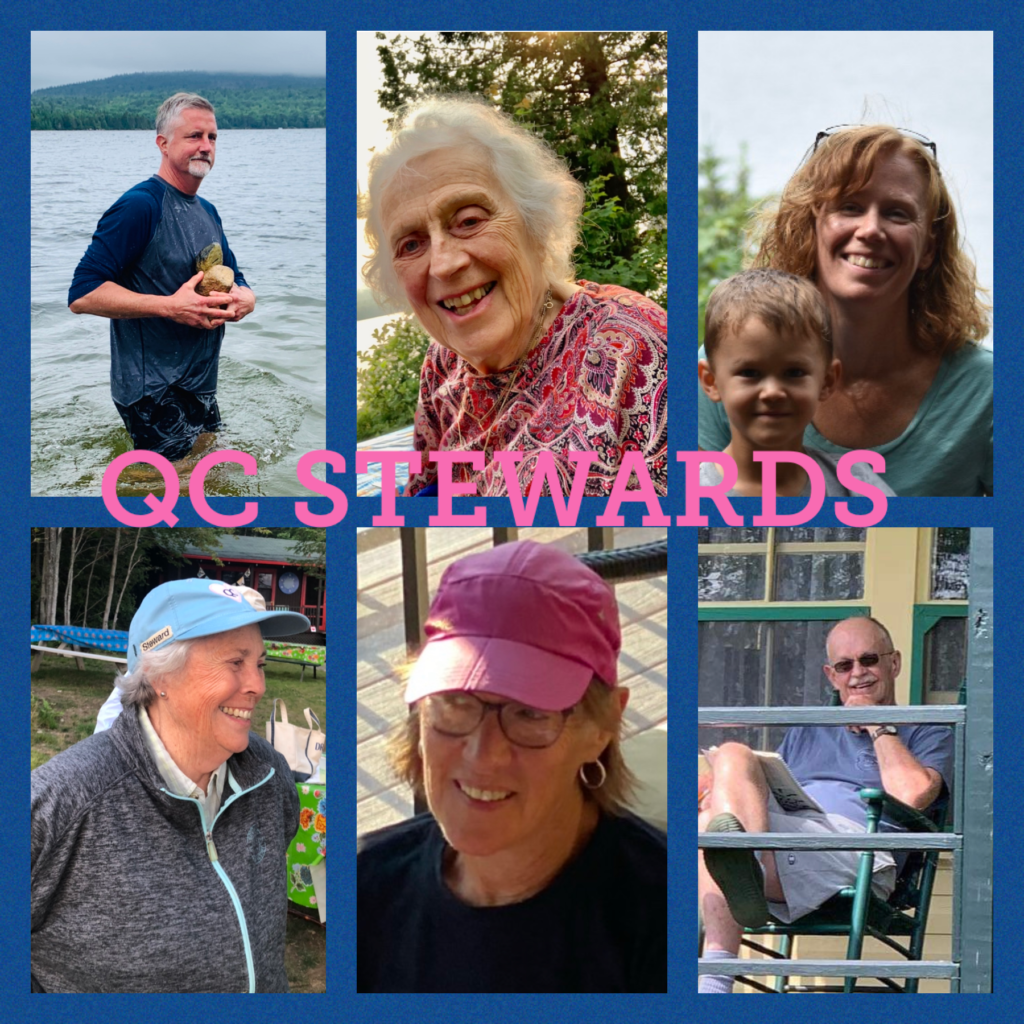 2021 Quimby Country Stewardship Award Recipients
In 2019, Quimby Country established an award centered around the heart of stewardship. Although we never knew many of the important figures of Quimby Country, such as Charles Quimby, Hortense Quimby Albert Prat, or all the prior managers before us their vision for Quimby Country, the vast landscape and the spirit of the Quimby experience lives on in large part because they were stewards and worked tirelessly to preserve all that so many cherish today.  Quimby Country is gifted in that there are many people who treasure its story and work hard to preserve its landscape and its history. Many also look to share its natural beauty and wonder with others, the gift that continues to give. 
The Stewardship Award was established to honor one member of the Quimby family each week during its High Season. Although there are many guests that are worthy of this recognition, we felt those people who received this award truly embodied the stewardship spirit and modeled this characteristic for others to see. One can be recognized as a steward for the way he or she honors Quimby's legacy, its past and its rich traditions.
Below you can learn about this season's recipients and some of the reasons they were elected. Congrats to all of our 2021 Stewards!
July 10th Week- Jack Gierzynski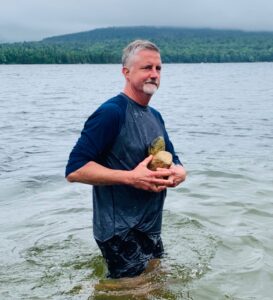 Jack was chosen as the Quimby Steward. Jack has been coming to Quimby Country for over 12 years. Jack shares his week with his teenage son Chay.Unlike many longtime QC guests, Jack does not always choose the same Quimby week each season. For this, Jack and Chay meet many new and different Quimby guests each year. Jack possesses a genuine, giving and kind spirit that naturally welcomes and invites others in. It is evident that Jack values his treasured Quimby time because of the one on one time it affords he and his son to share. Together they bike ride, kayak, swim, play tennis, hunt for moose, share meals in conversation and sit together on their front porch reading. Additionally, Jack enjoys staying up occasionally to enjoy a game of  scrabble or charades in the Lodge with other parents. Jack is always on the roster for Quimbledon, he always participates in the weekly April's Maple bike ride and is an active Family Olympian each Friday! Jack models having fun, including others, treasuring family time and savoring quiet moments on his own and in the beautiful outdoors. We are grateful for all Jack contributes to Quimby Country and for helping to keep its rich traditions alive and strong. Thank you Jack for always be open to a QC adventure! 
July 17th Week- Mary Salton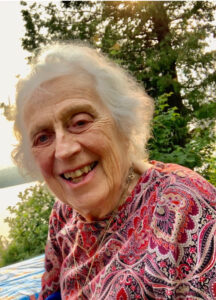 Mary was chosen as the Quimby Steward. If ever there was a guest who spoke their mind so openly and expressed their fondness for Quimby tradition, itis Mary Salton. Mary is a 4th generation guest who currently shares her special Quimby week with her daughter and son-in-law, her two granddaughters, their spouses and her 2 great-grandchildren. She first started coming to Quimby Country with her late husband Gerry in 1959 and together they stayed at what was once the Quimby Inn, on the north end of Great Averill. They found Quimby's through a AAA book on route home from Montreal! Mary has her favorite cottage, her favorite salad dressing, her favorite morning breakfast and evening cheese. Mary treasures her chats on the front porch of the Lodge or by the fire in the living room with friends who have become family. She would order 3 lobsters if given a choice during Friday night's lobster bake and she still makes the voyage over to Sandy Beach each Thursday. Her time is certainly spent differently than what she once new it be at Quimby's, but it is evident that she gains tremendous pleasure through watching the children enjoy and treasure all she believes Quimby to be- a place to freely roam, explore and enjoy. Having a guest like Mary at Quimby's teaches children the value of respect and responsibility. Young children will be seen holding the door for Mary or holding her hand while she climbs the Lodge stairs. This is a gift and so is Mary! Thank you Mary for helping us always treasure and honor the Quimby of yesterday! 
July 24th Week- Dana Shum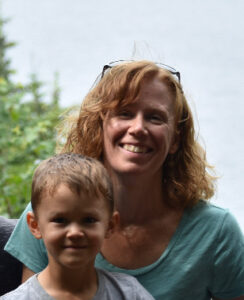 Dana was chosen as the Quimby Steward. Dana has spent 2 summers at QC with her husband Justin  and their 3 children. Dana is often seen with a warm and inviting smile, always eager to share in conversation with guests and staff alike. Dana embraces all of Quimby's activities and encourages her children to participate and appreciate each and every day. She models this positive energy and always has an encouraging word to share with not only her children but other's children too. Dana is the true definition of a team player. Each afternoon, whether it be a game like family kickball or wiffle ball, Dana is seen as a vocal team member, supporting and encouraging other guests. Dana participates in weekly hikes, bike rides and archery periods and always finds time to treasure family time with her children and husband. It is Dana's warmth and kindness that draws others near. Congratulations to Dana and thanks for the kind, welcoming spirit you bring to Quimby Country each season!    
July 31st Week- Lorrie Roberts
Lorrie was chosen as the Quimby Steward. Lorrie has been coming to Quimby's for roughly 31 seasons with her husband Phil, son Charlie and inrecent years her grandson Phil and his girlfriend Onna.  Lorrie unfortunately missed her 2021 season because of COVID and her return this past season was a highlight for many, particularly for Quimby's!! Lorrie carries a sparkle in her eyes that makes all guests feel cared for and tended to.  It is evident that Lorrie appreciates all things happening at Quimby's and if she is not participating herself she is taking joy in watching others do so.  She takes time to talk with all guests and is always inquisitive about staff's lives and special interests. A week will not go by without time spent with a fly rod in hand, either along the shores of Forest Lake or out in a row boat out at one of Lorries favorite spots. She always has at least one huge catch, sharing its beauty as well as its taste, as she always has the chef prepare her fish for all to enjoy! Lorrie holds a special affinity for the Quimby gardens and even knows (and shares) local spots for cutting flowers to bring back to Quimby's. She shares stories and listens intently while others do the same. Her laughter can be heard down Albert's Way and her appreciation is shared with all.
August 7th Week- Carol Siegfried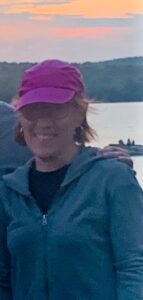 Carol was chosen as the Quimby Steward. Carol grew up coming to Quimby's with her family as a child. She returned with her own family when her kidswere young and teens but because of complexities of lives getting busy and her own family living all over the country, her own children took a break from Quimby's and she and her husband Micheal returned solo with their dogs for a number of years. This past season Carol had the pleasure of returning to Quimby's with her 3 sons and their families.  This included many grandchildren as well! It was evident the pure joy Carol felt in watching her grandchildren come to love and explore all her own children fell in love with many years back. It brought Carol such delight in knowing that the Quimby's she loved as a child could provide the same joy and togetherness for her own family so many years later. Quimby Country has a special way of bringing families together and this was a dream come true for Carol, to have her family experience this time and togetherness. Carol values the vast landscape and endless trails, she appreciates the efforts all put into making it the special place she longs to return to each year, she appreciates Quimby's quirks and loves it for exactly what it is. Thank you Carol for appreciating  and valuing the Quimby of  today and for longing to share it with your own loved ones! 
August 14th Week- Tom Bisset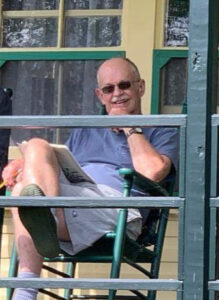 Tom was chosen as the Quimby Steward. Tom first started coming to Quimby's when his own family was quite young (some not even born yet!), back inthe late 1980's. He spent many years away and returned in 2019, with his daughter Anna and her husband and three children. Quimby's holds a very special piece of Tom's heart and it has meant everything to him to be able to share it again with his family, particularly his three young grandchildren. Tom is very much young in heart, biking with his family to April's Maple for a beloved creamy, signing up for the weekly Quimbledon tennis tournament and practicing with his grandson, showing up for weekly bingo at the Lodge and the ice cream sundae bar following dinner.  Tom too possesses a natural ability to make all ages feel welcomed and appreciated. He shares his gratitude freely and always has a kind and supportive word to share with Quimby staff. Tom enjoys quiet, early moments on the front porch of the Lodge with his cup of coffee. He will happily sit in silence to take in his surroundings, or chat with a fellow guest who also savors this time. His grandchildren affectionately call him Papa and embrace him with daily hugs and love, contributing to the very happy environment that calls him back each new season. His appreciation and love for Quimby's has freely flowed into his families life and this three generation family makes Quimby's an even more special place to be! Thank you Tom!