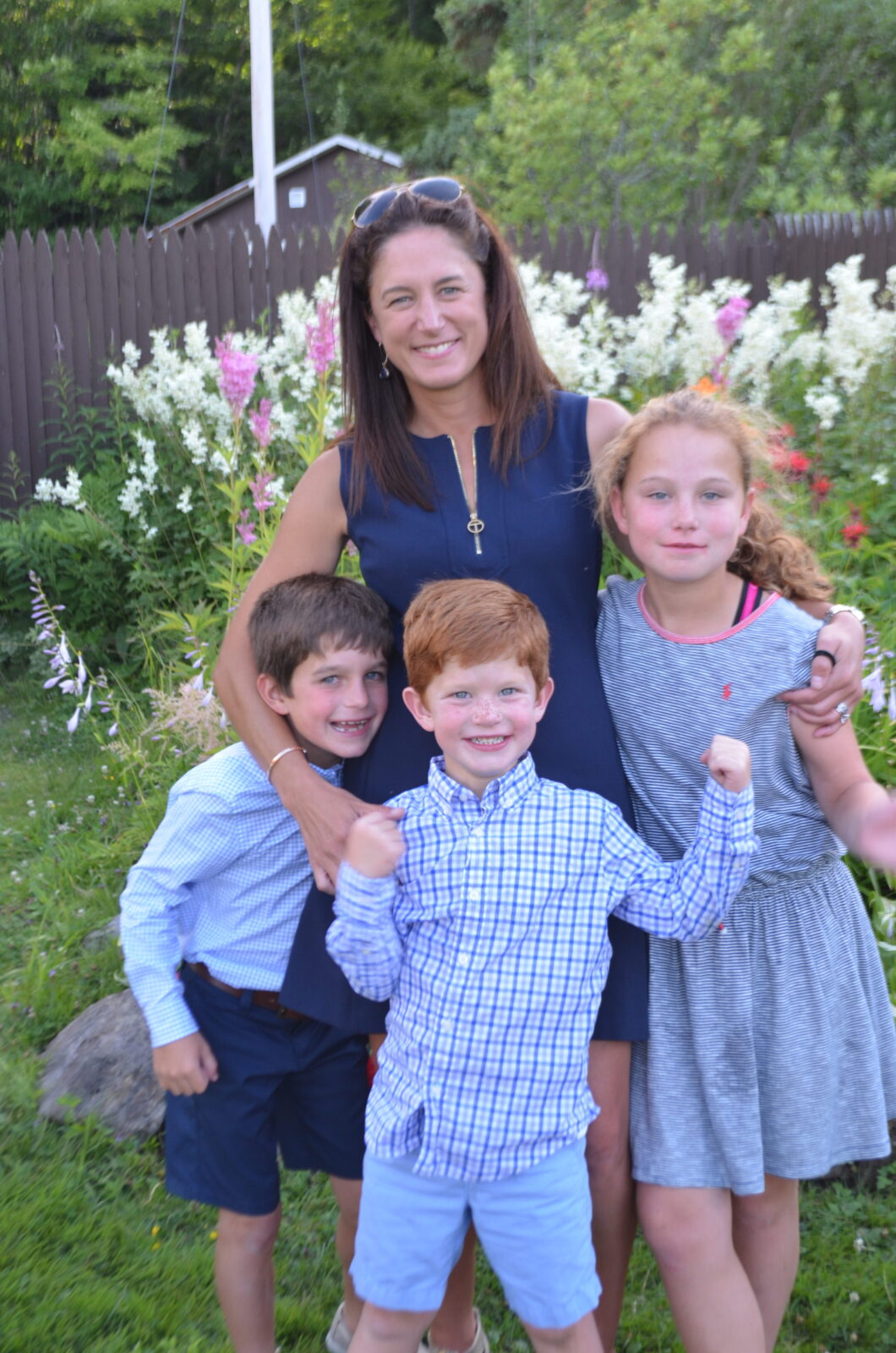 The Criqui Family Reflects on their Quimby Country Experience 
How did you first learn about Quimby Country?
My father, John Adams, was close friends and business colleagues of Nevin Brugger.  Nevin and his family were longtime vacationers and icons at Quimby country.   He told my father that he must take his family to Quimby because it is the best family vacation spot on the east coast. My parents (John and Diane Adams) along with their three children (Peter, Rich, and Arianne) embarked upon their first road trip from Pennsylvania to the Northeast Kingdom in 1980.  I still remember the long, station wagon drive to Vermont with my family.  Little did I know that this first trip was going to be one of the most memorable vacations of my childhood.  It created a lifetime of wonderful memories and experiences that I will never forget.
How many years have you been coming to Quimby Country?
My family has been going to Quimby's on and off for the past 38 years.   When I was young, our family went to Quimby Country for five straight summers – then sports, life, and college got in the way. Fortunately, my brothers decided to journey back to Quimby Country in their 20's to see about a magic place that we fell in love with as kids.   The magic did not change and they reconnected with this special place once again – now as adults.  They have been going for the past 22 years (except for the year it was closed).    I joined them once I graduated college for many of these years.  Then life got in the way for me once again – as I got married and had three children. When Quimby reopened in 2017, I knew I had to return with my kids.   I have never felt more connected to Quimby's as I did when my kids embraced the spirit of Quimby's for their first summer in 2017.  My kids consider this their favorite vacation of all time and I have a feeling that we will continue to return to QC for many years to come.
When you are asked, as parents, why you return to QC each season, what do you say? What is it about QC that make you return?
I think my smile says it all as I describe Quimby Country.   Over my life, Quimby has evolved in its meaning to me.  When I was a kid, I experienced the freedom, fun, and laughter of playing outside all day long with my family and friends at QC.   When I returned in my 20s and 30s, it became a true vacation for me – as I was able to disconnect from the day-to-day stresses of work and life. When describing my experiences, I enjoy discussing the outdoor activities, the hikes, and swimming – but more importantly the ability to connect with all the wonderful people that make Quimby great.   Many of these people have been coming to QC longer than our family and it is these personal connections, conversations, and experiences that make me want to return year after year.  
When your kids are asked what they love about Quimby Country, what do they say?
Patrick (5yrs old):  My favorite thing to do at Quimby's was play tennis and swimming at the Rock.
Kieran (8yrs old):  My favorite thing to do at Quimby's was the sleep out on Wednesday night because we got to be with all our friends and have a night out (kids only) in the middle of the woods.
Meghan (10yrs): My favorite things to do at Quimby's is being with my friends all day long outside – and forget about electronic devices because you don't need them at QC! 
When you close your eyes, what is the first image of Quimby Country that comes to your mind?
Meghan: All the kids playing and laughing together outside!
Kier:  I can think of all the great sunsets every night – as well as all the cabins lining Alber's Way.
Patrick: Eating breakfast at the kids' table with all my friends!
Arianne (mom): The trail run along the lake to start my morning, the peaceful stroll to the Rock in the afternoon and the amazing sunsets at night.
Tom (dad):  When we turn off the main road and right at the Quimby sign there is the first view of the beautiful lake and cabins. A close 2nd is the view from the Rock across Great Averill with the sun starting to set…..
What is your favorite Quimby food?
Kier: My favorite food at Quimby's are the lobsters at the lobster cookout at the Rock.
Patrick:  My favorite food at QC was the bacon at breakfast!!
Meghan:  The Breakfast – especially the pancakes and the muffins at breakfast!!!
Tom:  Picnic lunches while on an excursion (whether it be canoeing or hiking or mtn. biking)
Arianne: Without a doubt, the lobster cookout.
What is the best spent day at Quimby's? How would you explain this?
Meghan:  Well everyday is amazing at Quimbys.  It is hard to pick just one thing!
Kier:  Probably Wednesday, because it starts with our favorite Quimbledon tennis tournament, then a big family day at the Rock  – AND then it ends with the sleepout !!!
Patrick:  My favorite day is Saturday when you arrive because you have a full week ahead of you to enjoy ALL the fun activities.
Tom:  Getting up early to do a trail run, followed by a morning hike up Brousseau Mtn., then spending an afternoon relaxing and swimming at the Rock.
Arianne:   My days always revolve around activities. I truly enjoy a trail run early each morning as the sun is rising.   Whether its mountain biking or paddle boarding, I enjoy these activities because the views, sounds, and beauty of the Northeast Kingdom make each activity truly awesome.  
If you could recommend new guests to try Quimby's for the first time, what would you say?
Kieran:  I would convince people to go to QC for the first time – because the kids can go by themselves (with the counselors of course), and the parents can enjoy their adult time knowing the kids are having fun too!
Meghan:  It is so much fun, no Wifi and freedom to play outside (anywhere) all day long
Arianne: As an adult and parent, I genuinely think this is one of the most enjoyable and relaxing vacations that I have experienced.  Whether you love to hike or fish or just read a book quietly, Quimby's allows you the freedom to enjoy any of these activities.  It is one of the most beautiful settings in northern Vermont away from the hustle and bustle of day-to-day life that allows you to truly unwind, relax and enjoy a vacation as it was intended.
Meghan shares with us her school project she did this fall about her time at Quimby Country.