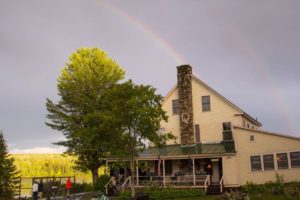 Quimby Country opened for its 122nd season last Thursday, June 15, by welcoming more than 30 members of the Vermont Botanical and Bird Club, which by happy coincidence decided to hold its 122nd annual meeting there.
Quimby's, founded in 1894, did not open in 2016 due to financial problems, but a new Board of Directors restructured the resort's debt, made capital and operational improvements, hired a new General Manager and Executive Chef, and increased marketing, including a new website to showcase all that Quimby's has to offer.
Founded in 1895, the Vermont Botanical and Bird Club is the state's oldest birding and botany club.  This is the club's second meeting at Quimby Country. When it held its 110th annual meeting there in 2005, it described Quimby's lodge and cottages on Forest Lake as "like stepping back into the nineteenth century."   In addition to Forest Lake and the crystal waters of nearby Big Averill, the trails that crisscross the resort's more than 1,000 acres have made Quimby Country a go-to destination for generations of birders, anglers, and vacationing families.  Its Lobster Bakes on Big Averill have been a popular event for many residents and visitors in the North Country.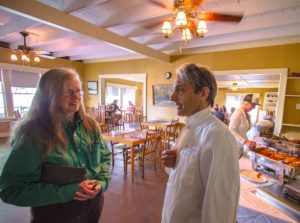 At left, James Martinsson, executive chef at Quimby Country,  discussed the evening's menu with Deborah Benjamin, president of the Vermont Botanical and Bird Club. A graduate of Le Cordon Bleu in Paris, France, Martinsson grew up in Vermont and has run kitchens and dining rooms from Nantucket, Massachusetts, to Aspen, Colorado.