Weddings at Quimby Country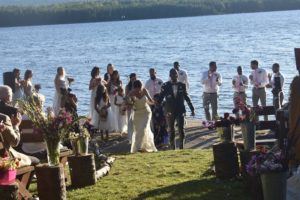 Congratulations on your engagement! Thank you for your interest in considering Quimby Country as your wedding destination. Below you will find more information about our Weekend Wedding Package. If you would like to further explore having your wedding at Quimby's we encourage you to be in touch soon as wedding weekends are limited.
Quimby Country offers a flexible wedding service in a quiet, rustic location in the Northeast Kingdom of Vermont .With more than 1000 acres of forests and two lakes, Quimby's offers endless possibilities, including the ability to reserve our entire property (rooms, meals, lakes) for your own private, intimate wedding.  Quimby Country would love to assist you with creating a unique and special wedding experience – please be in touch to learn more!
Quimby Country, Weekend Wedding Package is priced on average around $13,000 and is based on: 
Exclusive use of Quimby Country from Friday evening – Sunday 12noon
Use of dinning room, which includes tables and seating for up to 100 guests
Numerous outdoor and indoor ceremony site options
Cottage accommodation for up to 75-85 guests
Friday access for decoration and set up
Pre-event visit with one of our managers to finalize details for the day
Options to hire out Quimby staff to lead special activities during the weekend (inquire for more details)
Camp Fire built, lit and wood stock provided for Friday and Saturday night
Option to hire Quimby's Executive Chef to cater full weekend event
Access and use of our hiking trials on over 1000 acres
Use of beach and waterfront on Great Averill Lake and Forest Lake
Access to fishing and recreation on Forest Lake
Access and use of our Rec Hall
* Package price is based on the attendance of 70+ guests
Items that are not included in the package price 
General Liability Insurance and Liquor Liability Insurance 
Food cost and food service
$1000 refundable damage deposit
$40 day guest fee
Tax/Gratuity
Activities run by our specialized staff (e.g. archery, waterskiing, mt. biking, guided day hikes)
* Guests can (at your request) be asked to contribute towards their food and lodging and it is commonplace for wedding couples to do this and to ask us to help set this arrangement up. Please see the example below.
Example of Wedding Weekend Pricing (based on 80 – 85 guests)
Wedding Weekend Package = $13,000
Total Food Service  = $6,500-$8,500 (estimate)
Total Lodging and Food =  $18,000- $21,000
————————————————-
Collected from Guests   $77 per night and $58/food (doesn't include reception dinner)
Total weekend charge per guest: $212  (includes room and board)
Total owed by wedding couple: $2,500 -$3,000 (includes facility fee and reception dinner)
Please note this is only an example and will vary from wedding to wedding
Based off of an 80-85  person guest attendance