Quimby Country Wedding Testimony
                                                                -Blog article written by Lorin Holmes, owner and manager of vermontweddings.com 
Foliage Season is the perfect time of year for exploring Vermont. For my family and me, summer is over, and all the toys that we enjoy on Lake Champlain are packed up for the winter. The snow has not yet arrived in the mountains, so we don't have our skis out yet. It is the perfect time to explore!
After a vivid drive through all the yellows, oranges, and reds of fall, we came upon Forest Lake in Vermont's Northeast Kingdom. It may have been a bit drizzly this October weekend, but the views still looked like a painted canvas.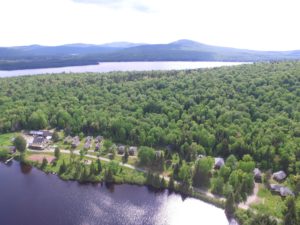 Situated between Forest Lake and Great Averill Pond, sits the 19 rustic cottages of Quimby Country. As we drove around the lake, we passed the yellow cabins, tennis courts, and fire pit, my daughters became quiet with excitement. Walking through the screen door of the Quimby Lodge was like walking through a movie set of a family summer camp from another generation. Several people were relaxing around the warm hearth sipping coffee and talking. Yes, old-fashioned conversation without devices! Quimby Country has internet, but access is intentionally limited so that visitors can truly enjoy themselves. There were other artifacts to keep us entertained: books, games, penny candy and photo albums dating all the way back to the late 1800s.
During the summer months, Quimby Country is a dog-friendly family resort. Activities include fishing, boating, biking, hiking, tennis, paddle boarding, archery, scavenger hunts, arts and crafts, excursions to rock climbing, and campfires to keep families engaged all week long. With three meals a day, this is a vacation for the entire family.
As the editor of Vermont Weddings what truly piqued my interest is that Gene and Lilly Devlin have several weekends available every year for weddings…
Just imagine…all of your friends and family spending the weekend in rustic yellow cabins alongside this picturesque lake. Trout fishing with your buddies at Great Averill Pond, kayaking or paddleboarding on Forest Lake, playing tennis or other lawn games with your cousins, roasting marshmallows by the fire with extended family, exchanging vows on a sandy beach, dancing the night away in the clubhouse, and gazing at the stars in the sky on your way back to your cottage. In the morning, relive the night all over again as you enjoy a farewell breakfast in the dining room with the entire party. There are so many things you can do at this family camp.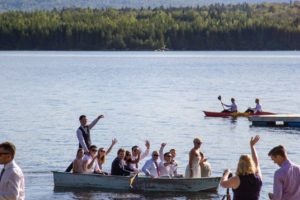 A couple researching Vermont venues toured the property during my visit, and I was able to tag along on the tour. Gene instantly makes you feel welcome when you meet him. He spends time listening to the couple to get a sense of what they have in mind. There are so many options at Quimby that Gene and Lilly can customize every wedding to coordinate with each couple's ideas. Visions realized during their tour that the couple booked their 2020 wedding at Quimby Country!
When is Quimby Country available for weddings?
There are only a few select weekends Quimby Country is available for weddings each year. They run six weeks of all-inclusive family vacations during the height of the summer, therefore, weddings take place before and after the family vacation season.
Currently, the only wedding weekend open for the upcoming season is in June, 2020.
June is one of my favorite times of the year in Vermont! The temperatures are warm during the day, but not too hot. The evenings are cool and comfortable. The wood burning stoves in each cabin will add to the romance of this sporting camp while keeping you toasty warm.