Quimby County Writer's Weekend: A Vermont Writing Retreat – October 2nd -4th
Join Yankee Editor Mel Allen, author and Yankee columnist Ben Hewitt, and Yankee's Deputy Editor Ian Aldrich for a unique writer's retreat at Quimby Country. Over the course of a long weekend, we'll explore the craft of narrative, non-fiction writing, learn how to get published, offer supportive feedback on one another's work, and share plenty of delicious, home-cooked meals, all in the splendor of Vermont's Northeast Kingdom at its most beautiful time of year.
What To Expect:
Through workshops and designated one-on-one sessions, Mel, Ian, and Ben will guide participants through exercises and facilitate discussions that will improve writing skills, deepen appreciation for the craft, and share their cumulative decades of experience as professional writers and editors. Among many other things, you'll learn:
How to write about others

How to read like a writer

How to develop compelling story pitches

How to improve your personal essay

How to tighten your writing

How to write about place
You'll get the chance to work closely with all three instructors, who will also share their own personal journey toward becoming a professional writer and editor, as well as soak in the camaraderie of spending the weekend with a group of fellow writers and lovers of language.
WHO IS THIS FOR?
This will be a lively, fun, but intense few days of reading, writing and discussion. Although all interested writers and readers are welcome and encouraged to attend, those with a deep interest in improving their craft and deepening their understanding of how good writing is constructed will likely derive the greatest benefit. Participants are encouraged to share their goals (and, if they'd like, a piece of writing) with Mel, Ian and Ben in advance of the workshop.  We'll also provide a reading list (don't worry, we won't overwhelm you!) of favorite stories and essays in preparation of group discussion.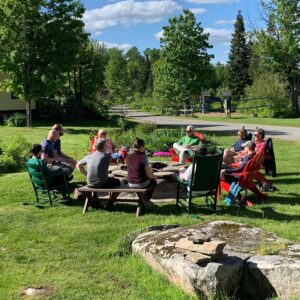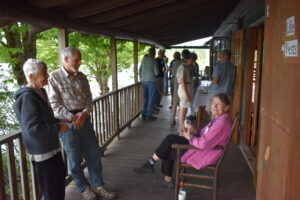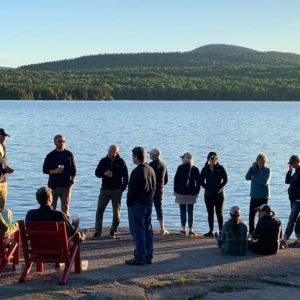 Setting:
There's no better place or time for it, as Vermont's Northeast Kingdom will be alive with autumn colors and the energy of the changing season. Participants will work hard but also have the flexibility to take full advantage of their surroundings, as well as plenty of relaxed social time. Situated on more than a thousand acres with two trout lakes and 19 turn-of-the-century rustic cottages, Quimby Country is the oldest sporting camp in Vermont and offers miles of hiking and biking terrain.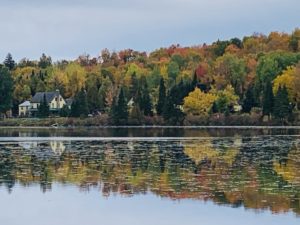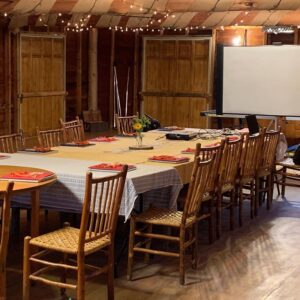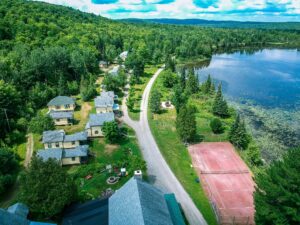 Meet Your Instructors:
Mel Allen is the fifth editor of Yankee Magazine since its beginning in 1935. His first byline in Yankee appeared in 1977 and he joined the staff in 1979 as a senior editor. Eventually he became executive editor and in the summer of 2006 became editor. During his career he has edited and written for every section of the magazine, including home, food, and travel, while his pursuit of long form story telling has always been vital to his mission as well. He has raced a sled dog team, crawled into the dens of black bears, fished with the legendary Ted Williams, profiled astronaut Alan Shephard, and stood beneath a battleship before it was launched. He also once helped author Stephen King round up his pigs for market, but that story is for another day. Mel taught fourth grade in Maine for three years and believes that his education as a writer began when he had to hold the attention of 29 children through months of Maine winters. He learned you had to grab their attention and hold it. After 12 years teaching magazine writing at the University of Massachusetts-Amherst, he now teaches in the MFA creative nonfiction program at Bay Path University in Longmeadow, Massachusetts. Like all editors, Mel, who was a 2018 inductee in Folio's Edit and Design Hall of Fame, says his greatest joy is finding new talent and bringing their work to light.
Ian Aldrich is the Deputy Editor at Yankee Magazine, where he has worked for nearly two decades. He is one of the magazine's main feature writers and his stories delve deep into issues facing small communities throughout New England. He also covers travel and oversees the magazine's digital endeavors. His work has appeared in numerous other publications and has also been recognized by the Best American Sports writing and Best American Travel writing anthologies. In 2019 his Yankee story on the opioid crisis in New England took first place in the category of reporting at the annual City-Regional Magazine awards. In addition, Ian is a senior instructor at Great Escape Publishing's annual travel workshop and in 2018 led a travel writing course in Peru. He lives with his family in Dublin, New Hampshire.
Ben Hewitt lives and writes from his home in the Northeast Kingdom town of Stannard. A Vermonter from birth, his work has been published in magazines such as Outside, National Geographic Adventure, The New York Times Magazine, and dozens of others. He is the author of six books, including The Town That Food Saved and Home Grown. Ben is also a contributing editor to Yankee, and writes the popular column Life in the Kingdom. He has taught writing at Sterling College and facilitated numerous writing workshops. Ben believes that all good writing is fundamentally the result of paying attention and being honest, though not necessarily in that order.
Details:
Single Occupancy Cottage = $1050 – Sign up before May 15 for a discounted price of $950
Double Occupancy Cottage  = $950 – Sign up before May 15 for a discounted price of $850
Two dinners, two breakfasts and two lunches in our historic Lodge

Welcoming Friday night cocktail party

 

Writing time in a stunningly beautiful natural setting

 

The opportunity to connect with mentors and other writers at an intimate, exclusive getaway

You'll stay in a charmingly-rustic cottage with beautiful decks overlooking Forest Lake, woodturning stoves and full bathrooms – Click Here to view our cottages

All amenities are included (rowboats, canoes, access to Forest Lake, Great Averill Lake, hiking trails, lodge, internet, etc.)

 

Regardless whether you opt to share a cottage or not each participants will have their own room
Prices do not include a 9% meals and rooms tax 
* Space is very limited and will fill up quickly. Sign up early to guarantee your spot!