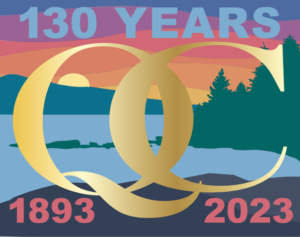 Registration is NOW OPEN!  
It is time to celebrate Quimby Country's 130th Anniversary! Over a century, Quimby Country has been welcoming guests and bringing people together to recreate and share time with one another in the great and beautiful wilderness of the Northeast Kingdom. Our 130th Anniversary weekend will be no different. The goal of the weekend will be to create a space for guests, staff and other friends of Quimby's, both old and new, to gather and celebrate Quimby's storied history together. We sincerely hope you will join us in this great celebration as we honor the past and look toward the future of Quimby Country. 
To that end, with the help of our 130th Anniversary planning committee, we believe we have put together the perfect blend of time with one another, the opportunity to explore and the chance to reconnect with everything you love about Quimby Country. We are equally excited to share that concurrent with our anniversary weekend, Quimby's will be hosting the annual Averill Lakes Association (ALA) meeting. Following the meeting ALA members will have an opportunity to join in on our lunch gathering allowing an opportunity for guests and local Averill residences to connect. All attendees of the weekend are welcome to join the guest speaker portion of the ALA meeting. Historically ALA brings in a guest speaker who focuses on efforts to conserve treasured lakes such as the Averill Lakes.
We encourage you to explore our 130th Anniversary page to learn more and help us spread the exciting news of Quimby's 130th Anniversary! This page will be updated from time to time as more details and planning takes place.  Our goal is to have as large of a representation from all generations (both guests and staff), as we believe it is the people who make Quimby's the unique and special place that it is. We hope to add attendees names to this site as they register, so you can see who else will be in attendance.  
On this page you will have the opportunity to view the weekend schedule, register for the event and book your stay. If you have any questions or require any further information we encourage you to be in touch. We can't wait to "Welcome Home" as many of you as possible this August!!! 
Tentative Schedule of Events 
Friday the 25th
4:00 – 7:00      Check-ins to cottages and /or for the weekend events 
6:00 – 7:30      Welcome Cookout at the Lodge
7:45 – 8:30      Square Dance in Nevin Brugger
8:00 – 10:00    Campfire & S'mores at the Lodge
Saturday the 26th
9:00   Day check- ins begin
7:45 – 9:15      Breakfast (only for residential guests)
9:20     Morning Meeting (to learn about days events)
9:45- 12:00    Open Activities
Examples of Morning Activities 
– Loon Talk by The VT Center for Ecostudies 
– Guided hike up Brousseau Mtn. 
– Open archery at the range
– Group walk along Forest Lake Trail 
– 130th celebration tie dyes!
**Averill Lakes Association Meeting** The Averill Lakes Association will host their annual meeting at Quimby's on this day. Following the meeting the association will join our community lunch allowing the local community and the Quimby guests to connect. 
12:15 – 1:30     Lunch at the Lodge
2:00 – 4:00 Great Averill Lake time! 
4:30 – 5:45 Cocktail Party at Lodge 
– Gene and Lilly Welcoming
– Remarks by assigned guests 
– Sharing of stories 
–Group photo!
6:00 – 7:30 Dinner Celebration at the Rock with live music 
9:00  Firework Display 
Additional activities and events offered throughout the weekend
– Gathering in Lodge to view Quimby's historic photo albums 
– 130th Slideshow in the Lodge
– Canoe Trip on the Connecticut River 
– Ridge Trail group hike 
– Special crafts centered around the 130th 
– Time capsule send off
– Lupine seed scatter along Forest Lake Road
Sunday the 27th
7:45 -9:15 Breakfast
9:30 Farewell gathering 
Butterfly release to celebrate Quimby's future!
Registration Details
There are a few ways to register for the weekend. You can either make a reservation to stay at Quimby Country and purchase a Weekend Lodging Pass, or if you are staying at another local accommodation or don't require lodging you can purchase a Weekend Day Pass, additionally,  if you live locally and just plan to  join us for Saturday you can fill out the Special Registration Form and we will prorate the weekend cost.
As you likely suspect, lodging is limited at Quimby's. We will do our best to honor as many residential guests as we are able.  We appreciate guests teaming up to allow for as many guests in each cottage as possible. We are also exploring the option for some guests to camp out on Quimby's property. If you might be interested in this option we encourage you to be in touch to learn more. 
We have reached out to a few other local lodging establishments and hope to announce other nearby lodging options very soon. 
Weekend Lodging Pass Includes: 
Friday and Saturday night lodging 

Friday night welcome cookout, Saturday breakfast, lunch, cocktail party, dinner, Sunday breakfast 

All activities 

Live music 

Fireworks display 

130th Anniversary pin 

Quimby Country name tag with lanyard 

Use of all of the amenities at Quimby's 
Weekend Day Pass Includes:
All Meals (except breakfast)

All activities 

Live music 

Fireworks display 

130th Anniversary Pin 

Quimby Country name tag with lanyard 

Use of all of the amenities at Quimby's
* If you are not able to come for the whole weekend or would just like to join for a meal or for Saturday's festivities, please fill out the special registration form and we'll be in touch with availability and cost.
Registration Cost
| | |
| --- | --- |
|  Weekend Lodging Pass  – Includes Lodging, All Meals and All Events (Friday – Sunday) |   COST  |
| Adults | $239 |
| Children (12 -18 years old) | $162 |
| Young Children (3 – 11 years old) | $146 |
| | |
| Weekend Day Pass – Includes Lunch and 2 Dinners and All Events (Friday – Sunday) | |
| Adults |  $115 |
| Children (12-18 years old) |  $92 |
| Young Children (3-11 years old) |  $80 |
* Children under 3 are Free
Registration Forms
If you are not able to come for the whole weekend or would just like to join for a meal or for Saturday's festivities, please fill out the special registration form and we'll be in touch with availability and cost