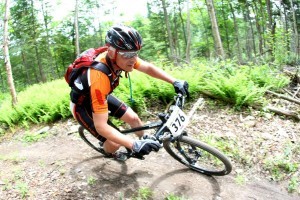 The FestivAllezY ("The Let's Go Festival") is the biggest bike festival in the Eastern Townships. The village of East Hereford is literally invaded with trailers, tents and bikes as families come to spend the whole weekend in this mountain biking paradise. But since you're staying at Quimby Counrty, it's only a 45-minute drive away. The festival offers tours for everyone, from beginners to elite athletes. Don't forget your passport.
On Friday, July 20, mini-buses take riders to the top of Mount Hereford so they can coast to the bottom in something called the "Mini-Avalanche." Registration is from 9 to 10 am. The last descent is at 4 pm. In the evening, guests can enjoy "The Mayor's Spaghetti Dinner" or local specialties ("saveurs locales"). There are also bike demonstrations, music, and microbrewery beer. Registration for Saturday and Sunday events ends at 9 pm.
Saturday, July 21, features group rides. Registration from 9 am to 1o am.  In the evening, guests can enjoy another serving of "The Mayor's Spaghetti Dinner" and microbrewery beer, along with "silly competitions," followed by a night ride at 8:30 pm.  Registration for Sunday's events is from 5 pm to 9 pm.
Sunday, July 22, features three challenge rides of increasing difficulty, from small, medium, and grand. Registration and distribution of transponders for the "Grand" (most difficult) challenge  is from 7 to 8:30 am. The challenges start at 9, 9:30, and 10 am.  Trophies, medals, and prizes are awarded at 3 pm.