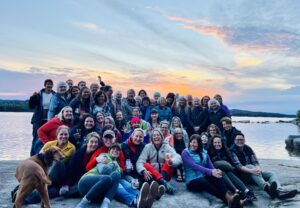 Quimby Country Women's Weekend 
SOLD OUT!!
September 15-17, 2023
"Invent your world. Surround yourself with people, color, sounds, and work that nourish you. " – Susan Ariel Rainbow Kennedy (Sark)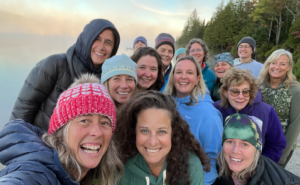 Quimby's 2-night Women's Weekend offers flexibility, allowing participants to design their own experience and embrace all the amenities Quimby's has to offer, while taking advantage of professional instructors and staff. We have designed a perfect getaway weekend for you and your friends, and we look forward to sharing Quimby's with you!
Situated on over 1,000 acres, Quimby's allows for ample exploration and quiet moments allowing you to fully feel connected to the natural environment and one 's needs.  Our Women's Weekend will replenish and inspire you to try new things and make new connections. Our goal is to help you invent an experience that will work for you, so you can return home feeling refreshed.  Quimby's staff and instructors are here to support your experience.
Weekend Cost: $450
Highlights of the Weekend:  
Two nights lodging in one of our rustic, quaint cottages with woodburning stoves
Delicious, fresh and healthy meals in our main Dining Room (Friday dinner, 3 meals Saturday and breakfast Sunday)
Work with a resident artist in painting, basket weaving, fiber art etc… to create something unique to bring home (artistic medium not yet decided for 2022- additional costs for specific materials may be added )
Fly fishing clinic with our exceptional on-site instructor (from novice to expert)
Daily yoga
Paddle board excursion around Great Averill Lake
Hiking, mountain biking and trail running options available
Archery
Breathtaking sandy beach for peaceful relaxation
Access to all of Quimby's amenities (trails, lakes, watercraft, archery, etc)
Building connection and community
Massage (added cost)
In a busy world where demands on my time are ever present, I was so incredibly grateful for the opportunity to spend a weekend away at Quimby Country.  The weekend was expertly planned and executed.  The best feeling in the world is knowing that you can participate in any range of activities, sit on a porch and read a book, take a long walk, paddle, hike, bike…you name it. And at each break in the day is an opportunity to share this glorious place with one another, tell stories, drink wine and eat delicious meals.  You may arrive with a few good friends, but you'll leave feeling like you're a part of the Quimby family! ~ Amey R.
I am beyond words. So many incredible women and awesome experiences. THANK YOU to everyone for a weekend that was so awesome and a salve for the soul.  ~Monique B.
My stay at Quimby Country's Women's Weekend was particularly timely for me as I had just lost my son and grieving.

The cabin I stayed in was Silver Sedge.  It was large and airy with 4 bedrooms!! I had a wonderful massage, painted and visited. I would  encourage everyone to spend time at this historic fishing lodge.  (There were so many other activities to pick and choose from including kayaking, yoga , basket weaving and 6:30 swims.. rain or shine)!! The food was topnotch!! My favorite was Salmon and  Scallops ..yum. This camp will grow and prosper. It is a healing place. ~ Judy H.
Beautiful, magical place. I loved every minute of my time during Women's Weekend and hope to go back every year. Gene and Lilly make you feel like family, but also give you plenty of space to just enjoy the gorgeous nature and be with loved ones….and the food was delicious! ~Sarah K.
Let me just say that you hit the ball out of the park with this incredible woman's retreat weekend.  The food was outstanding and the whole relaxed vibe was just what we all wanted and needed.  There was enough to do without being overwhelmed.  I loved and appreciated all of the creative presentations of food, name tags and s'more baskets, to name a few.   These little attention to detail really made all of us feel special, loved and pampered.  Quimby's did an amazing job.  Thank you so much for including me in this incredible weekend. ~Sherry B.
Everything was perfect! The food… the activities… the gorgeous property… the company. What a way to spend a fall weekend… The staff were wonderful with the best energy. Felt very safe (even during a pandemic). ~Amy Z.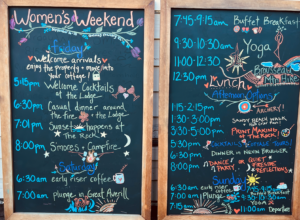 • A Sample Day •
6:30 am
Morning Polar Bear Swim
Morning Meditation
7:00 am
Coffee and Baked Goods
8:30 am
Breakfast
9:15-10:15 am
Yoga
10:30-12:00
Off-Property Hike
Basket/Fiber Weaving
12:15
Buffet Lunch
1:15-3:15 pm
Fly Fishing Clinic
Paddle Board Excursion on Great Averill Lake
3:30-5:00 pm
Painting Workshop
Archery
5:15 pm
Cocktails at the Main Lodge
6:30 pm
Seated Dinner served in the Main Lodge
8:00 pm
Campfire and S'Mores
*Massage offered throughout the weekend. Reservations required.
·Design your own experience with the help of our staff·